Offering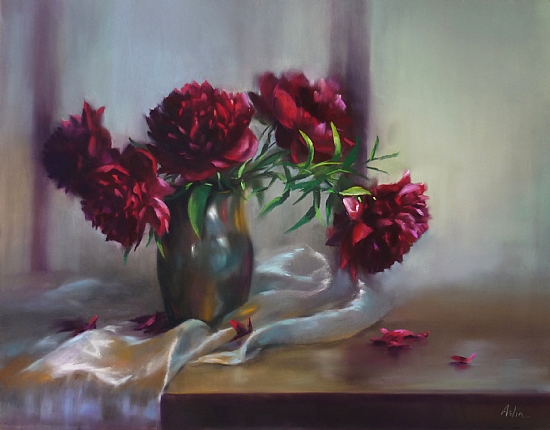 Medium: Pastel
Size: 22 x 26
Price: $3,200.00 USD
Availability: Sold

Contact the artist about this artwork
Artist Comments
Peonies do not grow in California, so when they show up in the local stores, you have to grab them while they are available. I swept all other projects aside to paint these. As I expected, within a day, they went from small, golf ball-sized buds to fully open. A few days later the petals were dropping, eventually ending up in a dark red, fluffy pile under the vase.

I wondered, "how does Nature make something so complex?" The deep, rich, burgundy red of the blossoms was positively arresting.

The regal beauty of these flowers, authored by Nature, needs no other elements or accoutrements for accentuation. They stand on their own. And I stand in awe.
UPDATE: This painting was selected to be on the cover of the new book Flowers in Art: Contemporary International Artists, by Cindy Ann Coldiron, published by Schiffer Publishing. The book is due to be released in late January 2013. Check this link for more information.