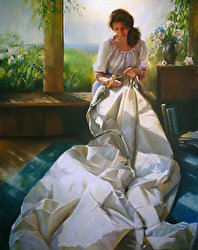 The nigglings of inspiration are like ...
...the seeds of the hardiest plants: Once embedded in the soil they send out runners underground creating a web of roots, never dying and always ready to emerge when conditions are right. And so it was with the co-mingling of many thoughts: anticipating my daughter's upcoming marriage and assisting her with her wedding dress, the unshakable awe of Joaquin Sorolla's painting "Sewing the Sail", and the contemplation and enjoyment that comes out of creating something tangible with your own two hands. Suddenly, I could see the finished painting in my mind: a hearty and hardy woman, brunette, strong arms, contemplative smile, on an outside porch, her back to the sea and the sun, stitching a heavy, white sail, illuminated by dappled sunlight. The runners of inspiration had fused and emerged and the painting was there, in my mind, complete!

Bringing this painting to fruition required the right setting, the right props, and the right figure. The setting was, conveniently, my back deck. I spent many weeks analyzing the pattern of the sun on it, and used myself and a fake sail (white cloth) for preliminary studies, running back and forth from the camera on timer mode to various seated positions, analyzing the photos until I had a sense of how to use the space and sun to best advantage.

Finding the right props was an interesting journey, starting with browsing around a nautical antique store, looking for books on sail construction, which I actually found on a dusty, lower shelf. One was written in Spanish! When I explained my inspiration for the painting to the owner of the shop, he sold me the books for a very reasonable price. I then began to research sail making in earnest and discovered that in addition to a robust needle and heavy sail thread, I needed a sail palm which fits on the dominant hand and is used to force the needle through the heavy sail fabric. I ordered all three from a store on the east coast.

Having done a lot of sailing in my life, I knew that the next most important thing was finding a real sail. I visited a sail making factory and looked for used sails to buy. I wasn't having much luck finding the cloth that had just the right heaviness, age, and a sort of "nautical poetry" to it. Finally, I discovered Harry O. After explaining my purpose for the sail, he told me he thought he had exactly what I was looking for. He seemed thrilled with the idea of the painting, and I think he enjoyed being part of it in a very significant way! The sail he loaned me was perfect: a large mainsail with just the right weight and stiffness, the worn bolt rope attached to the edge.

Finding the right person for the painting was more challenging. I had an exact image in my mind of who I was looking for, but not knowing how or where I would find her, I started by using myself to get the pose right so that when I did eventually find a model, the time would be well spent. I tried various colors of shirts, settling on a white blouse, and again ran back and forth a hundred times, between my camera on the tripod and my setup, pushing on the sail palm and grabbing needle and thread and the sail and striking a pose quickly before the shutter would click. I hired a few models who were quite wonderful but not right for the painting. Then, I remembered a woman that I had painted before during a life drawing session several months prior. I tracked her down and she agreed to pose for me. When she arrived, I opened the door, and I gasped. There she was! She was IT! She put on the white blouse, pulled her dark hair to the side, as I had envisioned months earlier, and struck the pose. I had to force myself not to stare in awe at the manifestation of my inspiration, in real flesh and blood, before me, and get to work before I lost the correct angle of the sun. I completed a small head study and used this painting and photographs to finish the finalize the painting. With the key narrator of the story in place, the painting seemed to finish itself.

And what a circuitous, unstraightforward, journey it was! However, the concept for the painting was deeply and firmly rooted, rooted in soil that required tending and amending, little by little, step by step. And along the way, I got a glimpse into a world that I don't think much about on a daily basis: that of sail making. And I met some wonderful people, like the owners of the nautical antique shop, the owner of the sailmaking factory, and especially Harry O and my dear model, Katrina.

I think when plant runners push themselves from the dark ground into open sunlight, it must require some measure of force and effort. If tamped down or pulled, there is a momentary setback. Meanwhile, underground, the runners remain strong, emerging at the next opportunity. And so it was with this painting. From the protective and contemplative land-hugging Leeward Shores, moving foreward, determined and confident, to Windward Dreams, this painting was born. And what a sail it was!
Comment on or Share this Article →
"Well, nuts. I guess I'll just paint"....were the sentiments of artist Jean Mannheim (1861-1945) in response to the changing styles of painting he observed in the last decade of the nineteenth century in Europe. "Composition and drawing, which had heretofore been stressed so forcibly, was now a secondary consideration. Everything was colour. When I first went to Paris, the impressionists were painting with big dots of colour. Two years later, I went back, and the pointillists were painting with little dots. Then came the post-impressionism, cubism, and other extremes. Finally, I thought, 'Well, nuts. I guess I'll just paint.'" (From the California Art Club Fall 2011 Newsletter).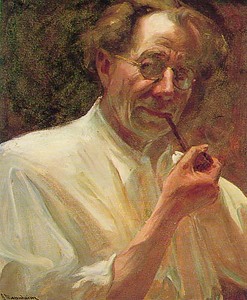 Jean Mannheim (1861-1945) self portrait
There could not be a better example for how artists ought to approach their daily work. And yet, how does the imperative to "just paint" jive with developing a "signature style" a common quest by many artists? In their blogspot radio program, Artists Helping Artists, hosts Leslie Saeta and Dreama Tolle Perry have interviewed many successful artists posing to them that most common question by emerging artists: how can I develop a signature style? I believe the emerging artist is really asking two questions: First, how can I make the mark--the stroke on the painting surface--look distinctive, like mine and mine alone? And second, how do I develop an artistic voice? The most common answer given to the first question by successful artists interviewed on the program is time, lots of time.
When we recognize a signature mark in another artist we admire, it appears that those marks were made effortlessly. But analyzing the development of handwriting as a corollary to the development of a painter's signature marks, this skill comes by way of lots of practice. We start out by printing, carefully and slowly, gradually moving to cursive. Over the course of many years, writing our name over and over, our signature becomes a very distinctive and unique graphic mark. Here is what Julia Layton says:
When we were all kids in primary school, we learned to write based on a particular copybook - a style of writing. But with the passing of time, those writing characteristics we learned in school - our style characteristics - became only the underlying method of our handwriting. We developed individual characteristics that are unique to us and distinguish our handwriting from someone else's. Most of us don't write the way we did in first or second grade. And while two or more people may share a couple of individual characteristics, the chance of those people sharing 20 or 30 individual characteristics is so unlikely that many handwriting analysts would say it's impossible. Handwriting analysts can pretty much ignore the style characteristics, which are only useful for determining with a fair degree of certainty which copybook the writer learned from. The individual characteristics are what matter the most in determining authorship.
Similarly, as painters, if we "just paint" (a lot), a signature mark will emerge over time.
And what about artistic voice? How does that develop? My expanded answer to this question and the "signature style" question is inspired by artist Daniel Gerhartz: Paint with honesty. This is where art and art making moves to a new and more difficult level. It implies that the artist combines technical skills based on an honest visual response to the subject, with an honest emotional response to the subject. That honest voice—honed over many years of developing skills and sorting and sifting through style characteristics (by other artists, strokes, marks, subjects)--eventually finds its roots in our own unique individual characteristics. Artist Robert Genn further emphasizes that we ought to pay attention to our "mistakes" or deviations from the standard which point to individual characteristics emerging.
It seems we could say then, that when we paint with honesty, we paint with our own unique DNA. The result is both signature style and artistic voice.
Over time, as with learning to sign our own names very simply but also with total uniqueness and a reflection of ourselves, each paint stroke becomes both simpler to make and more weighted with meaning. Indeed, the result can look simple to the viewer; perhaps it feels simple to the artist because he or she is no longer paying attention to process but instead to expression. In the words of composer and pianist Frederic Chopin: Simplicity is the final achievement. After one has played a vast quantity of notes and more notes, it is simplicity that emerges as the crowning reward of art.

Comment on or Share this Article →