In my daughter's 2nd grade classroom, many years ago, was this piece of paper, pinned to the teacher's bulletin board:
I asked the teacher for a copy and have kept it through the years. I have always enjoyed looking at it for the larger ideas and comfort it imparts.
Analyze your own cooking style relative to the ideas of chaos and order. Do you follow a recipe to the 1/16 teaspoon and level that cup of flour to make a carpenter proud? Or do you view a recipe as a general framework, adding an extra pinch of this or that, or approximating the cup of flour?
Do you start with order and stay with order? (Machines do this very well...very important in building stable structures and performing heart surgery):
Or do you start from chaos and progress toward order, as implied in the graphic above?

Or do you start with order and end up with chaos?

What do the last two graphics imply about the human experience and about being an artist?
The world of chaos theory gets very complex very quickly and I don't know too much about it. I do have a sense, though, that within chaos lies order and within order lies chaos. The marriage of the two is where art--as distinct from craft--happens, giving rise to art that goes beyond the sum of its parts and touches our humanity. Like any skill, learning how to cook or paint initially requires more order and less chaos. Gradually, in creative endeavors, order gives way to some level of "chaos", or "letting go".
Where artists ultimately find themselves on the continuum is rooted in both personality and result. Some working processes are absolute chaos (I'll use myself as an example here) and some working processes are very ordered and tidy (like some painters I know who wear white pants or manage to keep manicured fingernails intact!). Some paintings are very realistic and "tight". Some are suggestive and "loose".
Compare these two paintings. The first is by contemporary painter Doug Lew. Doug paints in watercolor. I have always loved the sense of movement in his work.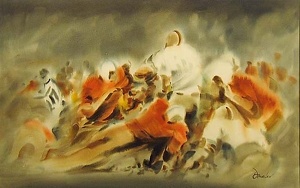 The Third Down, Watercolor Painting by Doug Lew
The second painting is by George Bellows (1882-1925)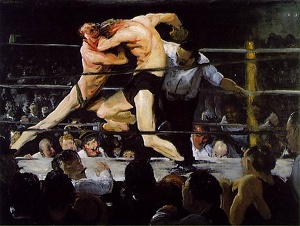 Stag Night at Sharkey's, Oil Painting by George Bellows
Which artist appears to work in a more chaotic way? A more ordered way? How can we tell? It is possible that George Bellows, by virtue of working in the opaque and controllable medium of oil paint was able to start and work through his painting in a more chaotic way. In contrast, it is possible that Doug Lew had to have a very ordered idea of his composition before beginning, so that the paint strokes of his less controllable water-based medium--watercolor paint--could be placed with deftness and surety. Or perhaps, the working processes align with the result, chaotic looking processes resulting in looser paintings, ordered processes resulting in more controlled paintings.
To illustrate an example from nature, can you determine what this image is about? An abstract painting? Something from a microbiologist's slide?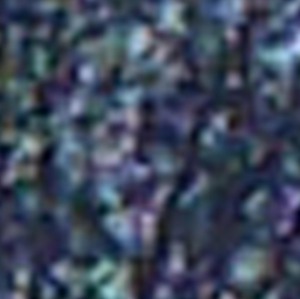 This is actually a section of tree branches. The red square below shows roughly where this piece was extracted.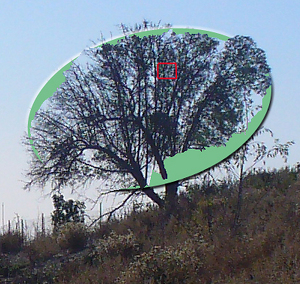 The top image implies some level of chaos or randomness. The bottom photograph shows the entire tree, its nicely ordered, elliptical shape emphasized.
In painting, the question I ask myself is how do the parts related to the whole and how does the whole relate to the parts? How does my working method extract the truth of what nature has presented? Further, in rendering form and light, where do left brain fundamentals of line, shape, value, color, texture and edges (all science and very concrete) leave off, and a necessary plunge into what I am calling chaos, into the tangle of the branches, if you will, lead me on a right brain, intuitive and grasping journey to a greater truth, in the realm of beautiful harmonious and cohesive design and beyond what the fundamentals will teach me?
If I get lost amidst the bramble, the fundamentals will lead me back to solid ground. If that solid ground becomes mechanical and rote, risking some level of chaos can push the envelope of creative vision to new places.
Harley Brown, another of my favorite painters and a master artist, has both chaos and order firmly in his grasp as evident by this example:
Self-portrait in process, Harley Brown
And this is why teaching art is so very difficult. A plunge into chaos without fundamental skills will lead to design and drawing problems, where the message is lost. Too tight adherence to fundamentals as an overriding goal leads to a worry about mistakes and the avoidance of chaos, limiting the growth of creativity. Perhaps the magic is in the middle. Or, as evident by the graphic, the magic is in the transition from one extreme to the other and back again.


This is a lone tree that I see on my daily bike rides up into the Laguna Canyon Wilderness.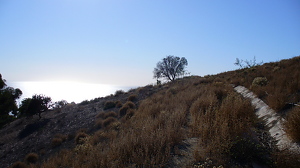 I take inspiration from the chaos-amidst the order and the order-amidst the chaos. And then, at night, looking up into the sky, knowing that...
I am but a tiny chaotic speck...
...in that larger order...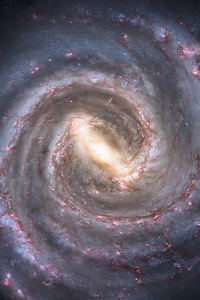 ...is quite wonderful.
If I get lost amidst the bramble, the fundamentals will lead me back to solid ground. If that solid ground becomes mechanical and rote, risking some level of chaos can push the envelope of creative vision to new places.
Comment on or Share this Article →