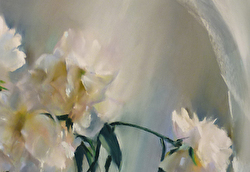 White on white...on white......on white.....
Such a challenge! And a desire to avoid formulaic lighting....
This shows a small portion of the final painting which I'm still fine tuning. Stay tuned for post-tuning!
Comment on or Share this Article →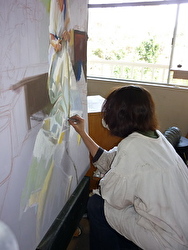 New figurative piece in the works!
I actually started this painting over. Was using UArt paper mounted to board and was fighting it all the way. Scrapped the painting (a significant amount of work), purchased an UltraLite panel from Raphael's, mounted smooth Frederix Knickerbocker canvas to it with Miracle Muck to it and primed it three times with the wonderful Art Spectrum primer. It is a wonderful surface....very forgiving and the pigment "soaks in" like it does with La Carte and PastelMat. The surface has a bit more texture than I like, even with sanding, but I've discovered that the particles help replicate the feeling of outdoor light particles bouncing around. I did two studies from life, used two models and myself, and also borrowed and purchased many articles to tell this story. Painting with final title is in progress! Stay tuned!
Comment on or Share this Article →