Sometimes, the story of a painting is more about light and the beautiful visual patterns it creates, rather than the specific elements themselves, as in the case of the painting above.

Sometimes the story of a painting is about the elements in the painting itself, with light acting as supporting actor. Often, paintings of people can be like this, as it was in the case of the painting of Tom I just completed last week.

Always, the story is completed by the viewer.
Tom's story
I met Tom officially one day when I was getting into my car. I was parked at the curb. He was sitting in a chair in front of his apartment and holding a folded piece of newspaper and a pen. He looked at me and said, "Can I ask you a question?" I was a bit surprised and couldn't imagine what he might ask. I answered, "Sure". He asked, "What is a five-letter word for a Paris house of fashion?" Now if you could see Tom, you would observe a slight man with an interesting face, wearing a black beret, a pair of shorts and the blue polo shirt with the logo of the hardware store where he works. Imagining ultra-chic thin French models with the typical runway partial-scowl wearing something newly fashionable and outrageous as I heard Tom's question made me want to laugh.

Turns out Tom was given the Oxford English dictionary as a small child. He was told by his mother that he was never to complain of boredom or ask for for other toys. He continues the story, "I started with 'aardvark'....." Fast forwarding several years, he tells me, without even a hint of boastfulness, that by virtue of his knowledge of words, he won several appliances on game shows (he tried to give his mother one of the dishwashers...she refused..."How will I keep my fingernails clean?") cash and several trips, among other things.

Now, with the job of game show contestant behind him, he completes two crossword puzzles per day--the LA Times and the New York Times. And that brings us back to the point where I first met Tom, on a Saturday afternoon, crossword puzzle and pen (not a forgiving pencil, mind you!) in hand, asking about a five-letter word for a Paris house of fashion.

I am passionate about painting the portrait and figure and I knew my experience with Tom in that moment inspired a painting that would not let me rest until it was completed. After we brainstormed the likely answer for a 'Paris house of fashion', I asked Tom if he would model for me doing one of his crosswords for a painting. "Sure", he answered. "You can come down to the hardware store during my break. That's when I usually do them."

One year later, I found myself awkwardly scrunched in the tiny break room of the local hardware store with Tom and another employee on her break. I tried not to ask myself what on earth I was doing there as I nervously unfolded my pastel box and set it precariously on top of a stack of chairs, positioned my easel, and began to work. Tom proceeded to talk non-stop about topics of all sorts, mostly related to the crossword clues, and not exactly holding still. Nonetheless, I was reminded of an instructor at the Gage Academy of Art in Seattle who, when students complained of the model not holding the pose, told of an artist in his native country of Ireland who would sit in the park and get perfect likenesses and gestures of a moving person in 10 minutes. So, I decided there would be no excuses for me.

This is my quick 45 minute color sketch of Tom.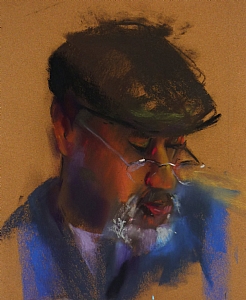 Here is the final painting, completed using my sketch and photos.

"....Five letter word for Paris house of fashion?", 16 x 20, Pastel
I recently received a large commission job where the person commissioning the work commented on how much she loved the stories and little blurbs that I sometimes post with the paintings on my website. I enjoy telling these stories. Through the years, looking at my work, viewers have shared their own stories. The wonderful thing is that often these stories are very different than the ones that inspired the pieces to begin with.

In my mind, this is what all good art should do, which is to tell a story greater than the sum of its parts, so to speak. The artist steps out of the way, acting as a conduit for a story that must be told. For me, as a representational painter, whether the inspiration for the story is of a person like Tom and his genius with words, or of light and its magical orchestration of patterns and forms, or of a combination of both, the completion and finale of each painted story is realized when the viewer finds his or her own story.
Comment on or Share this Article →