The Glennwood Housing Foundation will be holding an auction of original artwork this Saturday, April 30, 2-5 PM in Laguna Beach to raise money for a home for special needs adults. I have a passionate belief in this cause and hope you will support it by bidding on the many original works of art that will be available. I know most of the artists who are donating to this worthy cause and can attest to the beauty and quality of their work. This is your chance to support the Glennwood Houe of Laguna Beach and take home a piece of original art for your own home.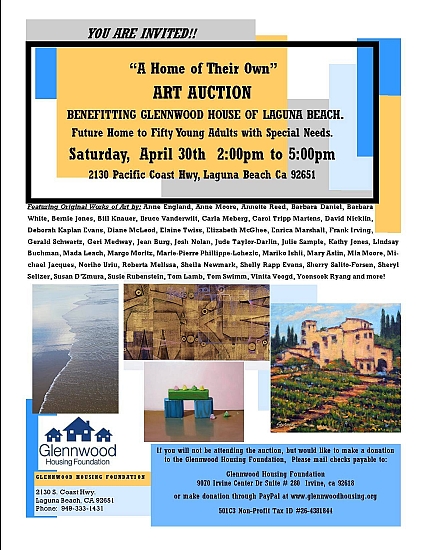 My original pastel, "Crimson", 11 x 14, framed in a beautiful wood frame with Museum glass, will be available at the auction. Value is $900. Bids start at $300. If you cannot attend and would like to bid, please call me at 949-812-1429 or email me at mary@maryaslin.com
Comment on or Share this Article →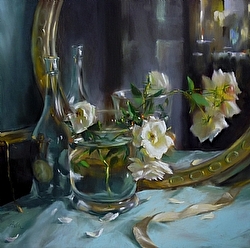 "Beauty, Real and Imagined"
I never begin to paint until I gasp in surprise. And more often than not, I will start with one idea, and as light works it's magic will end up with something different than I set out to do. As I played with the vase, clear bottle and mirror, all of a sudden, the reflections and the little abstract design in the upper right corner made my heart skip a beat. The beauty of the design was so compelling, I could not get myself set up quickly enough to begin painting. The petals were dropping gracefully and I had to use memory to fill in where the scene had changed. I added the gold ribbon and the leaning book later in the composition and also modified the cropping of the piece twice until it felt just right.
Reflections, continued (added June 7)
Quang Ho taught me about the difference between light and shadow painting and local tone painting and really understanding the distinction. I like both and had always thought it was all light and shadow painting with the distinction being the degree of light and shadow. Not necessarily so. It has challenged me further to play with different light and to understand how the "air space" amidst elements in a painting and transitions between light and shadow are a tangible thing! (I love Quang Ho's artistic/philosophical approach)! Now, let's add a mirror for a reflection and really add to the challenge.
Comment on or Share this Article →