I am happy to report that this painting just sold at the Joseph Wise Gallery, Laguna Beach.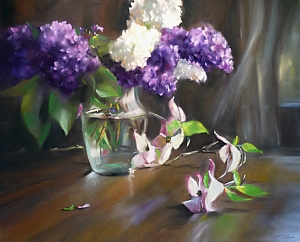 "Scent of Spring Breezes", 16x20, Pastel
When I set this still life up, the background was not interesting and needed modifying. As I was painting, I could smell the beautiful fragrance of these lilacs. Adding the window with the wispy blowing curtains in the background, bring in the scent-carrying breeze, both made the composition complete and gave me a name for this piece.
Comment on or Share this Article →