In contemplating the how to best sequence and present information for my upcoming drawing class, I revisted the first and most important of visual elements: line.
Line is something we all know about and practice regularly. It is our signature. And our personal signature has a type of "fluidity" because we have practiced writing it thousands of times.
Robert Genn wrote recently about fluidity: He described it as "the presence of long, languorous strokes, elegance, panache, dash and curves. To the sensibilities of most, like a long fluid line in a symphony, they give a feeling of completeness, mastery and intrigue. There is, of course, a place for short staccato bursts and all kinds of other notes, but it's the long fluid line that beguiles."
How can the fluidity of line be used to convey volume or bulk?
When I visited the Fechin House in Taos a few years ago and saw Nicholai Fechin's work up close I was struck my how much volume he conveyed in simple line drawings such as this: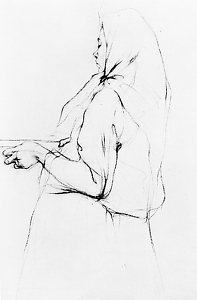 Or consider how significant a few simple lines conveyed the essence and bulk of the man here or the energy of the dancer, both by John Singer Sargent: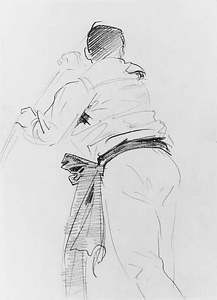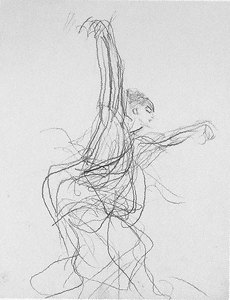 In the first example, we gain a sense of bulk by virtue of the deliberate consideration given to the weight of the lines and, in the second case, we get a sense of energetic movement by virtue of the flourish.
Or consider another example by Rembrandt: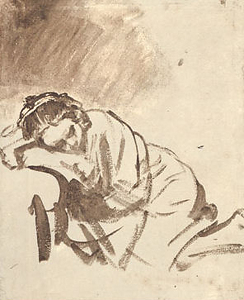 Lines with bulk and flourish and energy begin to live in the realm of art presented by Robert Henri, in his book The Art Spirit: "In drawing....there are lines that are heavy, dragging, lines that have pain, and lines that laugh.....You should draw not a line, but an inspired line.....Every line should be the universe to you. Every line should carry a thousand pounds. A line expresses your pride, fear and hope."
Each of the visual elements of art--line, shape, value, color, texture, edges—is worthy of a lifetime of study, and all of these, with the exception of color, can be explored with a simple piece of paper and a pencil. Drawing instruction is a bit of a hard-sell for students because we all want to get to the rich color of a finished painting. But consider the examples of the Masters presented here (and there are hundreds of examples by so many) and the mood conveyed by such beautiful simplicity. What a feast of riches we artists can enjoy with so little investment of money or space or complication!
Comment on or Share this Article →