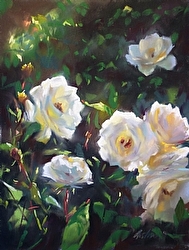 Luminous, 12 x 9, Pastel
If you managed to visit the Festival of Arts this summer and stop by my booth, I thank you. (If you visited me over email, signed up for my email newsletter, or were with me in spirit....I thank you too!).

I have met some of the most interesting and inspiring people, including a fellow Chopin lover, several successful artists, many aspiring artists and students, musicians, teachers, scientists, businesspeople, and general art appreciators and art collectors.

As festival visitors view my work, there are similar questions that arise:

1. Do you use a fixative or something on top of these paintings so that they won't smear?
2. What are these? Oils? Watercolors?
3. Do you paint things other than flowers?
4. Why do frame them with glass?
5. Do you teach classes?
6. Do you like using "chalks"?

I enjoy questions of all kinds, even ordinary questions because it is a way for people to begin a conversation at a point of familiarity. But I do find it refreshing when someone asks about my inspiration. My answer? Sometimes the inspiration is as simple as the beautiful patterns created by the light. Sometimes the inspiration is so deep and wrought with emotion that I have a very hard time explaining it in words. I did have a few people look at my floral still lifes and say, "These paintings aren't about flowers....they are about something more...". Often, people would look and look again in silence for several long minutes. A few people shed a few quiet tears. Several said, "I like your paintings but I can't explain why". Some said in response to my query about whether they had questions said that they weren't sure what to ask.

Being at a loss for words or not being able to formulate questions, prompted at times by emotion, is both part and parcel of the human experience and fodder for the artist. Let me tie in another experience I had recently.

My husband is just beginning an Executive MBA program and he and I both were asked to read an article on what makes a great leader. The thesis of the article was on emotional intelligence and its significance of it for effective leadership.

Later, at a meeting where students and their spouses were able to meet each other, a Top Gun Marine stood up, introduced himself, and said that when he has taken emotional intelligence tests he hasn't done so well. There was much laughter around the room. At dinner that evening, providentially, this same Marine sat down. What question to ask? Hmmmm......How does it feel to fly a fast plane? Are you scared when you fly?....But, I wanted to ask a question that would be meaningful for him to answer and would cut right to the heart of the matter, so to speak. Based on my recent experience answering questions this summer at the Festival, I had an idea.

Here is what I asked him: "What question would you like me to ask you about your work as a Marine if you could phrase the question?

He seemed a bit taken aback....but then said, "I would like people to ask me how it feels to kill someone." Difficult silence.

After gulping hard, I asked him, "How does it feel to kill someone?" Painful silence.

He proceeded to tell a story about an incident on one of his missions where many people were killed. He could not sleep for six months after he returned. Somber silence.....

This Marine has failed the emotional intelligence test but he wanted me to ask him a question that is so fraught with and so full of emotion it is almost too hard to ask and just as hard to answer.

I am so lucky and grateful that that I have not had to answer the questions faced by this Marine. I am also lucky that as an artist I can put a visual face on emotion at some level, where with a healthy shot of courage, and summoning all the skill I have, I can grapple my way through the richly creative emotional space where words fail and meaning begins, and the successful result is Beauty, beauty borne out of pain and darkness, or beauty borne out of joy and light.
Comment on or Share this Article →