Wild Flowers and Roses
My good friend and neighbor left these at my door as a thank you for a small favor. She is an expert flower arranger and a skilled artist. The vase she fashioned had a handwritten thank you note on it. I think I got the better end of the deal on this one!

I quickly put the arrangement in the refrigerator to keep it fresh for an afternoon painting demonstration on the Festival of Arts grounds. The area around the Ceramics Booth, normally used during the week days and Saturdays for childrens' classes is open on Sundays and is the perfect place to set up a still life under controlled light. I added a few pieces of fruit and began painting, enjoying the banter with Festival patrons and answering their questions about the medium of pastel. Some of the Festival artists were very helpful in offering feedback and enthusiasm for the developing painting. I have to paint from photos while working in my booth, but nothing beats the joy of painting from life. It is a singularly fulfilling experience. And it's also fulfilling to educate patrons on what I consider the ideal artistic process. This piece took about three hours and was so much fun to do.

For the gift of these flowers and the painting it inspired, I offer my thanks in return to you, my friend!
Comment on or Share this Article →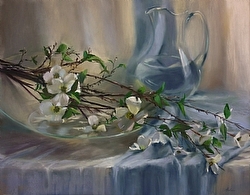 Last weekend while sitting in my booth at the Festival of Arts, I was enthusiastically approached by Bonnie Russell, personal public relations consultant (http://www.personalpublicrelations.com/).  Bonnie had her Festival directory in hand and told me she had researched some of the Festival artists prior to her visit and I was one she had chosen to visit.  (Wow, how nice I thought to myself!).   She had some great marketing tips for me and then, out came the camera.  She panned some shots of the art in my booth and then the camera was on ME (yikes...).  She asked some great questions.  I was unprepared for the last question.  Watch the video and then come back to this page for the answer:

Interview by Bonnie Russell

The answer to what has surprised me the most?  People tearing up when viewing my work.  I have been utterly blown away at the intense emotion that my pastel still lifes have evoked.  I have been told by several people that the paintings make them feel closer to a deceased parent.  On another occasion, one painting made a woman feel some healing regarding the abuse of her mentally disabled son by a priest (tough one for me....as I am a devout (unconventional) Catholic..).  And just last week, a woman shyly said my work made her cry and she doesn't know why.  I have also been told that some pieces seem to recall fond memories that have been buried by other experiences.

I stumbled when Bonnie asked this question.  For a moment, I was blank, not sure what the most surprising thing is about the Festival. 

Deep emotion doesn't flutter casually on the surface.  It takes incubation and then thoughtful deliberation. As such, I am grateful to Bonnie for asking this question.  It forced me, in the hours following her question to define what is sort of indefinable.  I am surprised at viewers deep emotion....and deeply honored.

And also honored (and pleasantly surprised!) by your visit, Bonnie.  Thank you so very much!
Comment on or Share this Article →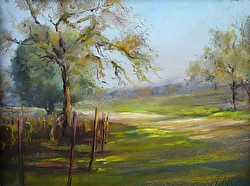 "Improvement makes straight roads, but the crooked roads without improvement are the roads of genius", Poet and Artist, William Blake (1757-1827)

I read this quote in an article entitled "Lessons from Leonardo, What can the legends of art history reveal to us about painting today?" by artist Margot Schulzke in the most recent issue (August 2010) of The Pastel Journal. Margot writes about Leonardo DaVinici's high tolerance for uncertainty and ambiguity. Her research was based on the book by Michael J. Gelb, "How to Think Like Leonardo Davinci" (Delacorte Press, 1998). She likened the above quote by William Blake to the mindset and working methods of Leonardo where he was willing to venture into territory that was untried and unknown.

I'm sure that a genius-level mentality--seeing possibilities along the crooked path--made uncertainty and ambiguity more tolerable for a mind like Leonardo's, but I think there is also a reverse cause and effect reality here too, whereby "genius"--and I use the term loosely--is fostered by plunging onto the crooked path, out of the comfort zone, cultivating the development of creative possibility.

A visitor to an art fair or gallery may conclude that the artists there have it all figured out and are resting on rarefied laurels of artistic success. Certainly, that was my perception many years ago when I was a novice, just entering the professional realm. The truth is that for both artists just beginning and those who are veterans, the path in and through the festival season and beyond is fraught with uncertainty. Will the art pieces, created over the last year, find their way into a collector's home, or instead, perhaps into the back of the artist's closet? As an artist's vision naturally evolves and continually ventures into the realm of the unknown, onto the crooked path of new artistic discovery and creation, the questions never change. Will the new art work, work? Will it work, personally? Emotionally? Technically? Commercially? Navigating the crooked path is both anxiety-provoking and exhilarating. If it activates dormant brain synapses and fosters new clear straight-line vision, the artist feels immensely gratified. And to the extent that the artwork, undertaken by the artist with joyful risk, finds peaceful repose after a circuitous journey and into the home of a buyer, well, this is bliss indeed!
Comment on or Share this Article →