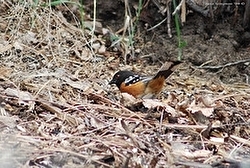 If you like to walk on paths adjacent to trees and brush, you may hear what sounds like a large animal rustling the leaves. This has happened to me time and again and I am always amazed at the small orange bird with the black head that appears, scooting backward and making a racket fit for a coyote. This is the way the towhee looks for food, lunging forward and then quickly hopping backward, scratching at the ground with both feet as they go.

This behavior is not unlike that of an artist scratching for ideas. In her book, The Creative Habit, renowned choreographer Twyla Tharp explains this creative process. When she is asked where she gets ideas for her dances, she suggests that ideas really are everywhere, and that perhaps the more meaningful question is how she gets her ideas. She implies that all artists have big ideas, which are tied to goals or dreams. But, she goes on to explain, that big ideas are built and shaped by strings of little ideas--that without little ideas, there are no big ideas. This is where scratching comes in. She explains that "scratching is not about control and repose. It's about unleashing furious mindless energy and watching it bounce off everything in your path. The hope is that a spark will fly from all that contact and combustion--and it usually does." A robin elegantly cocks its head and silently pulls a worm from the ground. The towhee, in all that furious and wild scratching, while calling attention to predators, manages to expose and pounce on the food that it needs.

I identify with the scratching of the towhee because arriving at the little ideas can be fraught with a bit of peril and often, a lot of noise. Once, when setting up a mirror on the deck railing where I often set up still lifes to capture the natural light, I gasped at the reflections I saw and managed to jiggle the set up and the mirror toppled off the railing and fell into the leaves below. I've knocked over vases, quickly mopping up the water that threatened to leave water spots on the wood table. In walking backward to analyze a setup, I have backed up into my easel (ouch!). In another case, my cats decided that the warmth of my illumination lamp was worth crawling over the many objects to find a nice place to sleep, knocking the entire setup to the ground. (You can't imagine the deafening crash...nothing broke but the good part is that the cats are now highly suspicious of my still life setups and stay away). All of the chaos and peril is worth the delight at the discoveries that unfold.

I'll give you some examples with some paintings you my have seen before in other newsletters. In the painting "What Is, Was, and Ever Shall Be", I was analyzing some hydrangeas and thinking about how the blossoms change as they mature. I was also thinking about an oil painting that I completed years ago of Rodin's "The Kiss" and the combination of those ideas led me to think about the profundity of eternal love to stand the test of time. "What Is, Was, and Ever Shall Be" was born.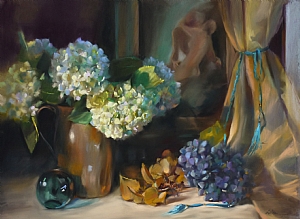 "What is, Was, And Ever Shall Be", 18 x 24, Pastel

In another case, I had been analyzing the paintings of Johannes Vermeer (1632-1675). I could not get the cool light, emanating from the left side of his paintings out of my head. That light, bathing the interior, is both soft and dramatic. And so, using the Delft blues of Vermeer's neck of woods in the beautiful clean cool light from my window I scratched out "Tribute to Vermeer".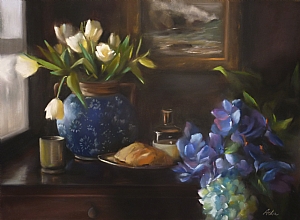 "Tribute to Vermeer", 16 x 20, Pastel

In "Water of Life", the painting I referred to in last month's newsletter, I kept thinking "draping white flower". I thought of a diagonal drape and water, water water. Imagine my delight when in the course of draping a stem of white dogwood across a shallow vessel of water, I caught a light reflection of some of the petals! Scratching is good!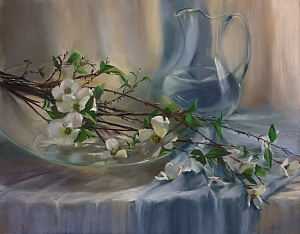 "Water of Life", 20 1/2 x 26, Pastel

Finally, my latest painting is the result of envisioning a see-through veil of cloth partly obscuring a set up of misty white and blue. The simultaneous revealing and the hiding of the veil, the clusters of white roses from my neighbors garden, dropping petals on the cloth, all gave rise to "Vale of Tears". And I loved the play on words for the title as well.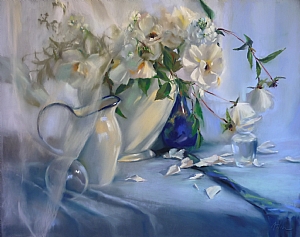 "Vale of Tears", 16 x 20, Pastel

All of my paintings came about through scratching, scratching, scratching through much emotion, back and forth, and lots of resulting noise. Scratching for the idea that flutters on the breeze or one that loudly hounds my thoughts for months finds its final orchestration through the play of light. Just as the towhee pulls its food into the light and then pounces, the idea is scratched out and exposed to the light and the plot, the narrative, unfolds.
Comment on or Share this Article →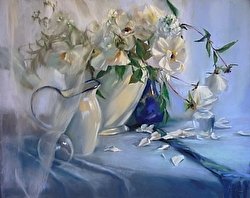 This painting was absolute joy to paint. I almost hate to see it end. The title is a bit of a play on words and points to paradox. As such, it is a painting about life....and I invite you to find your own story.
Comment on or Share this Article →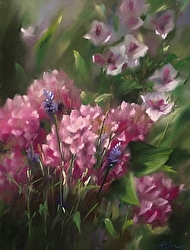 This was started outside at the Art and Garden Party in Laguna Beach on May 22, with the final touches added in the studio. What a great time was had by all!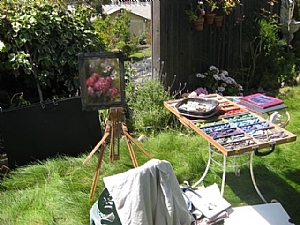 The set-up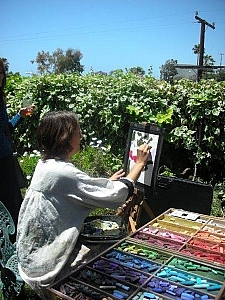 The start!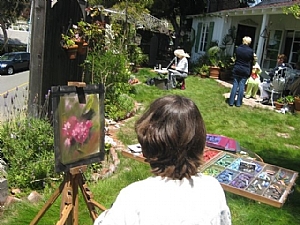 The painting underway!  See Sherry Ford painting in the background!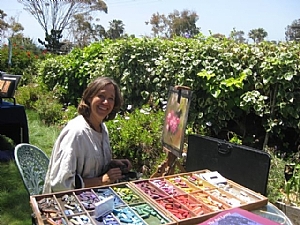 Having a ball!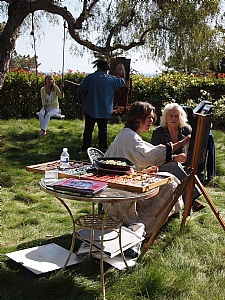 Sherry is giving me her expert critique.  Lorenzo George is painting Paulette.  Doesn't this have a sort of historical Laguna Beach look to it? 




Comment on or Share this Article →