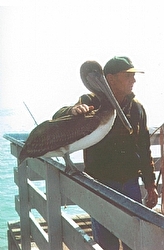 I was saddened to hear last week of the death of Donald Owen.  His sister, Vickie, emailed me to let me know. 

My association with Donald came over two years ago when I was walking on the San Clemente pier in February of 2008.  I saw this man in a pinkish shirt, faded blue jeans, and a straw cowboy hat fishing off of the pier.  His quiet attention to the task at hand--fishing--and his overall peaceful demeanor were compelling.  I shyly asked him if I could take his photo.  Without a word, he quietly turned his head and gazed at the camera.  I snapped a few quick photos, thanked him and then went on my way.  When I got home, I was struck at the sunlight on his face and the color bouncing and reflecting off of his hat.  The portrait begged to be painted.  It was one of the paintings that painted itself and I felt that I was able to capture something serene and strong in his eyes and posture. 

Imagine my surprise a few months later when a man happened by my booth at the Sawdust Festival, stared at the painting, and said to the woman who was with him, "That's Donny".  I was able to learn that this man's name was Donald--he was known as Donny--and he fished every day.  He had developed a special relationship with the pelicans who frequented the San Clemente Pier.  I was thrilled that I had managed to capture his likeness.  A few days later, I received a call from a relative who had heard from the man about my painting and wished to purchase it.  Was I ever amazed and thrilled!

Last week, I received the sad and touching email from Donald's sister.  She found my website and contacted me and shared stories and pictures of Donald.  This is one of her favorite photos of him.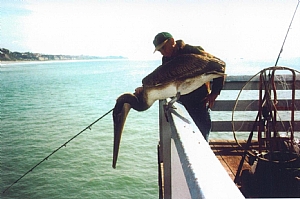 Click here to read an OC Register post about Donald:
http://www.ocregister.com/news/pier-243950-pelicans-owen.html

Here is the announcement about his death:
 
In Loving Memory of
Donald Victor Owen
July 15, 1947 – March 11, 2010

Our Beloved San Clemente Pier Pelican Man

Memorial services will be held
Sunday April 18, 2010 at 10:30am at
Park Semper Fi Memorial
(located above the parking lot overlooking the San Clemente Pier)

After the services concludes we will take a walk on the San Clemente Pier to honor Don Owens memory and dedication to all the Pelicans he so loved and where he stood fishing for the past 20+ years.

Don was always sharing all his exciting daily sea adventures with so many people passing by for a walk along the pier.
This included all the beautiful sea life he encountered each day and the magnificent pelicans who would sit beside him with so much trust, love and admiration for him.

Don had a way with animals like no one else and especially with all the pelicans on San Clemente Pier. When they were injured he would always do his best to help them get better. They would always enjoy some of his fish he had caught that day.

Don Owen contributed so much to all of us, our environment and all the animals he so loved. His somewhat quiet gentle presence as we walked by him on the pier with all the pelicans sitting next to him seemed to make our walk just a little more special each day. His beautiful spirit and soul will always be forever overlooking the ocean of paradise from the side of the spectacular San Clemente Pier he so loved. Donny you will be missed by so many of us and will be forever in our hearts.

The family requests that contributions be made to:
Chao Family Comprehensive Cancer Center
(checks made payable to The UC Irvine Foundation)
Mailing Address:
Debra Finster, Sr. Director Development
UC Irvine
333 City Blvd. West #605
Orange, CA 92868
Please indicate your contribution is to support Dr. Lewis Slater in memory of Donald Owen

I simply cannot overstate how humbled I am to have captured this amazing man in paint and am honored that this painting was carried to the pier for his remembrance.  He died on my birthday.

And so in closing, I offer my own tribute and thanks to you, Donald, for your quiet, colorful presence.  Rest in Peace.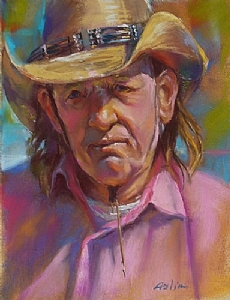 "Cowboy Fisherman"--Donald Victor Owen--July 15, 1947 – March 11, 2010

You may purchase prints of Donald at my print website:  Mary Aslin's print website