It was thrilling to create this simulated garden "setting" in my studio, complete with draping grape vines, roses and wildflowers. I used a potted silk ficus tree from Michaels, a piece of lattice stuck in the pot, and a Trader Joes potted hydrangea at the base. I didn't do much to organize the arrangement, instead letting the beautiful clusters fall where they might.

Here is a photo of my setup: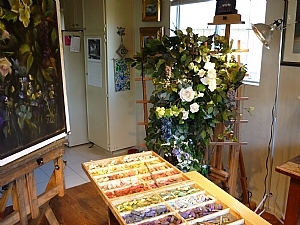 There is nothing like painting directly from life and as I have been very blessed with being a fast painter, I can now go give my thirsty wilted hydrangea some water.

Enjoy the final painting, "Concerto in the Garden", 30 x 22, Soft Pastel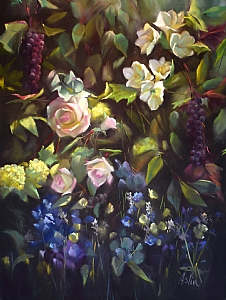 Comment on or Share this Article →
I have always wanted to paint a high-key painting...one where the value range is condensed in the upper range of the value scale. I have wanted to do this for two reasons. First, it would be a great exercise for really training my eye to see very subtle value shifts. Second, I wanted to convey a strong sense of light without the usual light-dark extreme. It was a most enjoyable exercise and was a painted on the heels of a low-key painting which is more typical for me. Compare the two paintings and think about light.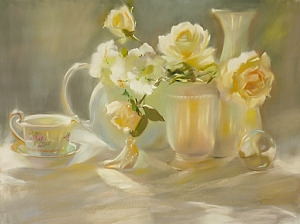 "Pearlescent" 18 x 24 Pastel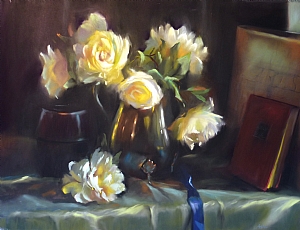 "Lust for Life" 18 x 24 Pastel


 Isn't light just a marvelous, wonderful, intensely variable thing?
Comment on or Share this Article →