We have only hours to go before the Sawdust Festival closes, and a day and a few hours before the Festival of Arts closes.

I thank all of my loyal clients who have supported my work and all of the wonderful new people I have met who have made this a most enjoyable summer. And of course a special thank you to my fellow neighboring artists at both festivals for the laughs and fun.

You're all just the best!
Comment on or Share this Article →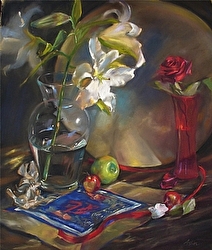 "Redemption", 28 x 22, Pastel


Almost everyone comments on the "light" captured in my work. Some say that while they don't usually care for still life paintings, they are surprised to find mine so appealing. As I listen to the comments and think about my own motivations for painting still life, I will attempt to express some insight into the hows and whys of this subject . The early history of still life was all about story and meaning, exemplified in the choice and arrangement of the objects themselves, and not so much on light as an element.

Regarding the first observation about my paintings--about light-- I choose simply to paint what I see, and am relentless in the pursuit to heighten my perception of all the subtlety and brilliance revealed by light. Edward Hopper's critics, observing his work, delved deep and attempted to dissect his motivations for each paint stroke and object in his paintings. His response? "I just like painting light on the side of a barn".

Certainly, Hopper loved to paint the light side of the barn, but how that lighted shape was placed and juxtaposed with shadowed elements was a key part of his story, as it is mine.

And yet unlike Hopper, I am intrigued, surprised and gratified when I see both men and women pause at length in front of my still lifes and say, with a bit of surprise themselves, "You don't just paint a vase of flowers...." with the implication that there is more here than meets the eye.

Indeed, the lit elements and shadowed elements are carefully arranged to tell either a complex or simple story: as complex as an inquiry into specific objects that evoke inspiration; or as simple and elegant as the poetry of an illuminated and gracefully draping cluster of roses.

There is one particular piece in my booth--"Redemption"--where I am asked to talk about the personal meaning of the piece. It's a struggle to put into words....as the process of composing the still life is an intuitive grappling and arranging and rearranging: of light and shape and the meaning into a harmonious whole. Ultimately, my hope and ongoing quest is that the story of my still lifes points to a certain universal harmony and beauty, in all of its simplicity and complexity.
Comment on or Share this Article →