I love visual poetry....the angle of the model's body, thrust diagonally vertical against a horizontal orientation, and the model herself, the position of her hands, the slight angle of her head, exhibiting a harmonious and complementary palette and the dramatic but soft sidelight....aahhh....when set-ups like this happen, paintings paint themselves.
Comment on or Share this Article →
What is pastel?
During the summer art festivals held here in Laguna I often paint still lifes directly from life in my booth. Most often I work in pastel and I find that observers are very intrigued by what they call the "chalks" I am using. The visual similarity between a stick of chalk and a stick of pastel and the very name "pastel" (think pale Easter egg colors) evoke a false perception about the very permanent and very rich medium of pastel.

Renderings in pastel, dating back to 15,000 B.C., can be found in caves in France and Spain. The contemporary pastel movement was begun by Rosalba Carreira in the late 1600s and she was followed by artists such as Chardin, La Tour, Millet, Manet, Degas, Cassatt, Renior, Lautrec, Gaugin, and Whistler. When Van Gogh saw some of Millet's pastels in an exhibition in 1875, he wrote to his brother Theo, "When I entered the hall where they were exhibited, I felt like saying, 'Take off your shoes, for the place where you are standing is Holy Ground.'"

If pastels are not chalk, what are they exactly? The name "pastel" comes from the French word "pastiche" which means "mixture" or "jumble". Pastels are pure powdered pigment, mixed with a special binder, ground into a paste, rolled into a stick and allowed to dry. Because there is virtually nothing in the sticks but pure pigment, it is the most permanent of all mediums and will remain unchanged for generations. Many pastels painted 250-300 years ago look as fresh as though they had been painted within the last five years. There is no yellowing or cracking to be concerned with and pastels never require restoration. The permanence of the medium helps pastel paintings hold their value. One of the Millet's pastels, "Woodcutter and his Wife Preparing Fagots" (19 1/4 x 13 1/2), executed between 1865 and 1870, was recently valued by Sotheby's at $300,000 - $400,000. In 1988, Sotheby's sold a Degas pastel for $7,500,000!

This history and conservation information is interesting and valuable for collectors and conservators. For me, using pastel is juicy, delicious and seductive. It is drawing, painting, and sculpting rolled into one exciting experience. The microscopic flecks of pigment--the glorious, intensely staining dust--act like prisms. They imbed on the surface, rather than sinking in, and as such they bounce reflected light and color in a hundred different directions, exhibiting both subtlety and brilliance.

You are invited!
You are invited to experience the visual glory of pastel at a reception featuring pastel and other dry media paintings at the Pastels Plus show, sponsored by the Southern California Artists Association (www.socalartists.org), on Saturday May 16, 2009, 6 PM - 9 PM. The exhibition will be open to the public on Sunday, May 17, 2009, 12 PM - 6 PM and runs through May 31, 2009. The address is 3251 Laguna Canyon Road, #F3, Laguna Beach, CA. Below is one of my two paintings, "Pearls of Wisdom" which will be exhibited there, along with the work of many other fine artists.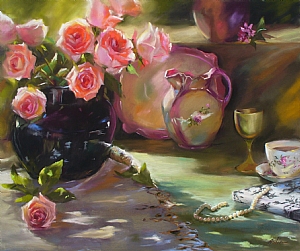 Also on Saturday, May 16, Chemers Gallery (http://www.chemersgallery.com/events/index.asp) and the Tustin Art League's will be presenting "City of Trees", an exhibition of outdoor views of the Tustin area. You are invited to the reception which will be held between 5 PM and 9 PM. This show runs through May 30, 2009. The address is Below is one of two of my paintings, "Lane to Peppertree Park" which will be part of this show.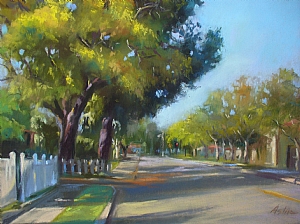 I will be at Chemers from 5 PM - 6:30 and at the Southern California Artists studio from 7 PM - 9 PM and would love to see you at one or both places!

News from Chemers Gallery
I was thrilled to learn that one of my paintings, "Waves and Waning Light" was chosen by an interior designer to be displayed in the master bedroom at the 2009 ASID Design Tour: Urban Living at Astoria. As anyone who has seen my home will attest, interior design is completely out of my realm and an incredible art form, one that I wanted to experience first hand. And what an experience it was---to see so many materials (fabrics, tiles, paint, leather, stone, lighting) and so many moods (vibrant, modern, soft, nuanced, bold) pulled together in three-dimensional space to create beauty. Seeing how paintings and sculptures are used as a design element was very insightful for me as a painter.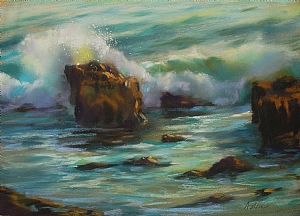 For more information about the paintings available at Chemers Gallery, go to http://www.chemersgallery.com/gallery.asp

Passport to the Arts summer festival update
The three summer festivals of Laguna Beach--Festival of Arts, Sawdust Festival and Art-A-Fair--have teamed up to offer "Passport to the Arts"!  For only $19, the passport will offer unlimited admission all summer long to all three festivals. It includes a one-time free parking voucher at the Act V lot on Laguna Canyon road and free shuttle service. I will be showing my large pastel still lifes at the Festival of Arts and smaller oils and pastels at the Sawdust Festival. If you are interested in the Passport to the Arts, you can visit their website, http://www.lagunabeachpassport.com/.

For my dedicated patrons and supporters, I will be offering invitations to both opening night parties. If you are interested in either individual tickets to the Festival of Arts or the Sawdust please let me know. More information will be forthcoming.

Comment on or Share this Article →