One of the paintings submitted for Festival of Arts jury.
I am so honored to share that I have been accepted into the Festival of Arts in Laguna Beach this summer! The jurying process consisted of two parts. Artists were required to submit three images on a CD for initial jurying. The artists who were accepted at this step were invited to submit three pieces for a physical jury last Saturday, February 21. We dropped off our work at the Boys and Girls Club in Laguna Beach by 9:30 AM and picked it up between 1 and 2 PM. Scores were posted on Wednesday. I was so thrilled to see that out of the final 108 entries, my work was among the 26 chosen to exhibit. Please see their website for more information about this exciting festival, which runs in conjunction with the unique Pageant of the Masters. http://www.foapom.com/

I have also received notification that I have been accepted as a Signature Member of the Pastel Society of America. Again, three images were required, along with a resume, to be presented to a panel for acceptance either as an Associate Member or as a Signature Member. The Pastel Society of America was founded in 1972 by Flora B. Giffuni. PSA is largely responsible for the current renaissance of pastels in American art and holds an annual exhibition at the National Arts Club in New York. It is truly an honor to be a signature member of this organization. You can view their website at http://pastelsocietyofamerica.org/main/

Here is one of the paintings entered for the Pastel Society of America


Comment on or Share this Article →
On Monday, I was a guest of Lorenzo, invited to paint the model with 4 other artists, at his beautiful studio in Laguna Beach. Being in Lorenzo's studio was like being transported back in time to an Italian atelier. Lorenzo's classical masterworks adorned the walls and his book collection, an 18th century master drawing, and lovely music added to the inspiration. See his website at http://www.lorenzo-art.com/

Although I was using a new paper that I'm largely unfamiliar with--Colorfix by Art Spectrum--I achieved an acceptable result. The drape of Patty's white robe off of her bare shoulders was poetic and beautiful and exciting to paint.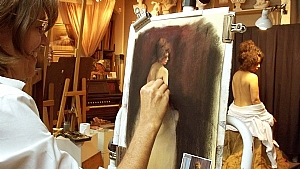 Stay tuned for tomorrow's blog post where I painted "The Pope" at the So Cal Artists atelier session.
Comment on or Share this Article →
This past weekend, a group of about 25 artists from the Southern California Plein Air Painters and the Southern California Artists Association gathered in the Anza Borrego desert for a paint away. It was a fantastic experience on several levels: Painting the desert, up close and personal, gave me an appreciation for it's subtle beauty. I was told that seeing this beauty is an acquired taste....not immediately obvious but something that reveals itself slowly and meaningfully the more you look. The quiet during the day and the night was something one could almost touch. And the stars at night were glorious. Last, but not least, the companionship of fellow painters, painting during the day, and meeting for dinner at night was inspirational and fun. We were lucky to have Greg LaRock critique our efforts during the Saturday night spaghetti feed. Many thanks to Kay Flierl for organizing this memorable event!

Day 1--Borrego Springs, just outside the Visitor's Center.




Day 2--In the morning at Aqua Caliente campground. I loved the juxtaposition of the granitic rocks against the desert vegetation.



Day 2--In the afternoon at Mountain Palm Canyon. It was absolutely thrilling to see an oasis for the first time! The clustered, backlit palms and the sunlit path leading to them made me think of being led to respite, peace, water, and then to Jesus being greeted by palm waving citizens on Palm Sunday and finally to the word, "Hosanna".




This painting trip was an unforgettable experience. The beauty of the desert was startling, having come from the Pacific northwest of tall cedars and wet undergrowth. I am humbled and changed. Hosanna!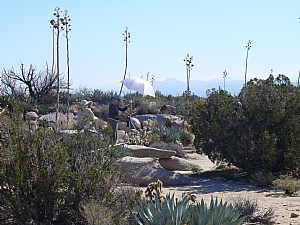 Comment on or Share this Article →