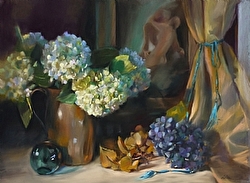 What Is, Was, and Ever Shall Be
I am absolutely in heaven!! I have discovered a brand new pastel surface by Clairefontaine of France called PastelMat.  They are on the web at www.pastelmat.com

And this is from the website of Dakota Pastels (www.dakotapastels.com), where I first learned about this wonderful surface:

"Clairefontaine developed this paper to meet the specific expectations of the most demanding pastel artists. Its single and original surfacing is a true innovation, which combines the advantages of two papers traditionally used: "Velour surface" and "Pounce". The fine particles are sufficiently well fixed for a smooth surface and an optimal comfort of use. Its unique velvety surface, made from a fine coating of cellulose fibers, has the ability to grab and hold multiple layers of even the softest pastels. The character "fixing" of this surface with such a pleasant touch is so extraordinary that the superpositions of multiple layers of colours, the realization of flat tints, precise details or delicate and transparent veils are easy to achieve. The use of fixative is not necessary anymore. The art of the pastel is sublimated. Subtleties, freshness, the luminosity and the delicacy of the colours that make the charm of this technique burst in all their splendour."

When I first opened the box from Dakota, I thought that the paper was the wrapping or cover sheet for the real paper.  It seemed impossible that so smooth a surface could be receptive to pastels. 

From the first stroke I felt that I had died and gone to heaven.  My fingers were so sore from using a highly sanded paper and when I blended on the soft but firm surface of the PastelMat, the pastel pigment retained it's character and luminosity.  I was able to push the pigment around and into the surface without it chalking up.  I also noticed that I didn't have a pile of pastel dust on my dust catcher like I normally would.  I am thrilled!  And the pads of my fingers are thrilled too!

Stay tuned for more paintings produced on this wonderful new surface.


Comment on or Share this Article →