My uncle, John Huish, died a few hours after posting my blog about him yesterday. He was going downhill fast but I had expected him to live for a few more weeks. He was not able to read my tribute but knew of my feelings about him. The photo posted on yesterday's blog was taken on our one special plein air paintout together. His right hand was cramping as a result of chemotherapy drugs so he painted with his left hand. John had intended to spend his retirement years painting.

He is out of pain now. May he rest in peace.

Thank you for the precious gift of your inspiration and artistic genius, dear Uncle John. I will miss you.

Comment on or Share this Article →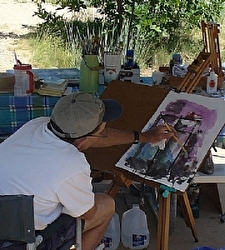 Uncle John teaching me about the use of ink in a watercolor plein air study
This blog is dedicated to the first, continuing, and best inspiration for my own artwork....my Uncle John. He is suffering with cancer and I ache for him and for his family, for all of us who have been touched by his humor, writing, love of God and family, love of the outdoors, music, architecture and his painting. Having grown up with his paintings on the wall, I can attest to his true art spirit and I have a powerful, intuitive sense now in my adult life for those artists who possess the same art spirit and capability. All artists I consciously and subconsiously measure against the yardstick of John Huish's skill and flourish with his painting and drawing instruments. John has "it"....the ability to compose a scene and render with his own unique and genius-level artistic bravura, cars on a street, the reflection of trees in the pond in Salt Lake's Liberty park, historic buildings on the University of Utah campus, sail boats on the water, trains, scenes of Seattle's Lake Union, still lifes of ordinary elements, large, endlessly compelling colorful oil abstracts, or personal paintings for family. John graced us with a beautiful transparent watercolor of our family sailboat as a Christmas gift one year. I'll never forget the catch in my throat and tears in my eyes as I viewed it for the first time.

John is a true artist. He has painted en plein air his whole life. His repertoire of mediums--whether it be watercolor, oil, or pen and ink--and subjects--still lifes, landscapes, portraits, abstracts--speak to his true nature. John has "it". Although I can't describe it well, I can see it and and I can feel it. And my lifelong quest is and will be to paint with his level of genius. His skill, vision, heart and spirit have set a beautiful standard of art excellence to aspire to.

Thank you, dear Uncle John.
Comment on or Share this Article →

Painted at my easel in my booth at Art-A-Fair and sold two hours later.
I cannot overstate my gratitude for the opportunity to exhibit at Art-A-Fair this summer in Laguna Beach, California. As a newcomer to the area, having moved from Washington state last fall, I knew I would enjoy great weather and a beautiful environment. I did not anticipate the kind, collegial and warm welcome I have received from artists and residents of the community here. The Art-A-Fair visitors have made the life and business of being an artist highly enjoyable. It will be a summer to remember.

Comment on or Share this Article →