Booth construction for Laguna Beach's Sawdust Festival 2009 is underway and progressing well.  My husband and son are doing a wonderful job building the booth.  Their creative insight and building skill has been instrumental.  It is so special to have them as the muscles and creative contributors to this endeavor.  And I continue to be awed and thrilled to be part of the legacy of the Sawdust Festival.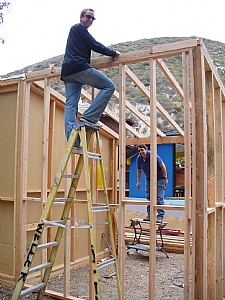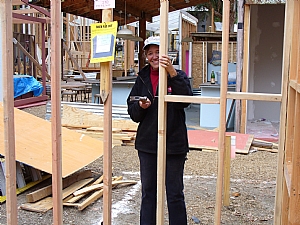 Comment on or Share this Article →

One of the paintings submitted for Festival of Arts jury.
I am so honored to share that I have been accepted into the Festival of Arts in Laguna Beach this summer! The jurying process consisted of two parts. Artists were required to submit three images on a CD for initial jurying. The artists who were accepted at this step were invited to submit three pieces for a physical jury last Saturday, February 21. We dropped off our work at the Boys and Girls Club in Laguna Beach by 9:30 AM and picked it up between 1 and 2 PM. Scores were posted on Wednesday. I was so thrilled to see that out of the final 108 entries, my work was among the 26 chosen to exhibit. Please see their website for more information about this exciting festival, which runs in conjunction with the unique Pageant of the Masters. http://www.foapom.com/

I have also received notification that I have been accepted as a Signature Member of the Pastel Society of America. Again, three images were required, along with a resume, to be presented to a panel for acceptance either as an Associate Member or as a Signature Member. The Pastel Society of America was founded in 1972 by Flora B. Giffuni. PSA is largely responsible for the current renaissance of pastels in American art and holds an annual exhibition at the National Arts Club in New York. It is truly an honor to be a signature member of this organization. You can view their website at http://pastelsocietyofamerica.org/main/

Here is one of the paintings entered for the Pastel Society of America


Comment on or Share this Article →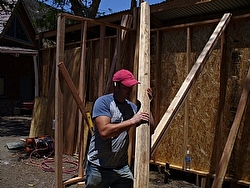 Daniel building Sawdust booth
Daniel, an excellent builder and very nice guy, started booth construction today. It is exciting to see it take shape! I am very pleased to have an opportunity to show my paintings at this vibrant and well-known venue. Stay posted on progress!
Comment on or Share this Article →