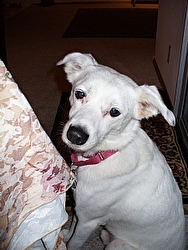 My tears are sufficiently in check so that I may write of my beloved dog and the joy he brought to my life.

We adopted Morzie when he was 4 years old. He had been placed in a shelter with his very large black pal by a woman who had to flee a domestic violence situation and was forced to give up her dogs. Both dogs had been at the shelter two weeks On a whim on a providential Friday afternoon in 2002, my daughters and I happened by the dog kennel which featured just a few dogs for adoption each weekend. As I approached the penned area, a white medium size dog with black spots on his ears, gently put his paws on the fence to receive our hello.

After playing with Moab, as he was called then, we decided that we might like to adopt him, pending approval from other members of our household. The woman at the shelter indicated that the previous owner really had wanted both dogs to be adopted together, which we could not do. She agreed to think it over and let us know if Moab could be adopted by himself and we agreed to consider whether it was a good idea to proceed. The next day, she called, very excited, to indicate that a family had come by the shelter and wanted to adopt Moab's pal, the black dog. It seemed meant to be that Moab should be ours.

And become ours, he did. We renamed him Morzie, after a town we had visited in France (Morzine), as it had a beginning sound similar to Moab, and we began to acquaint him with our household. Morzie was a gentle dog with a silliness about him that always made us laugh. He would make howling, woo, woo sounds and we would ask him if he was trying to speak English. He certainly understood English, as many dogs do, cocking his head in anticipation at the sound of the word "walk". At the command to "go find your toy" or "where?", he would go bounding down the hall, nose to the ground, ready to pounce on his ball or frisbee dropping it in front of you to be thrown again and again. He loved sleeping under things and the second I would sit up in bed, he would crawl out of his cramped space under the bed. He would watch and wait for me to put on my shoes in the morning, the signal that it was time for a walk. And when I finally would retrieve the leash, he would run back and forth, back and forth, back and forth in delight and excitement at the anticipation of his walk.

There was nowhere I went on foot without him....to the grocery store, the art supply store, the beach, the post office. He never barked as he was leashed up, waiting for me to finish my errand, and passersby and shopkeepers couldn't help but comment on his white eyelashes.

One day I took him to Ocean Shores, Washington with me to watch my son and his friend go surfing. I was recovering from knee surgery and as I watched, sitting on the sand, Morzie was content to be my companion. I experimented with quick sketches of him, using felt tip pens of different values.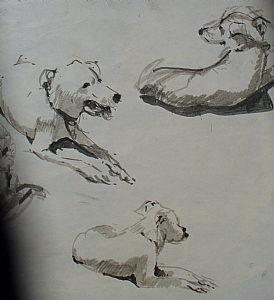 During the car ride home, while my son drove, I sketched one very tired dog.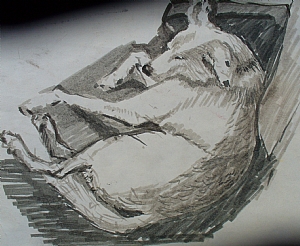 He would often wait and watch, with black liquid eyes, for the next moment to play. He was a dog who loved and lived to play.



We often called him, in fun and delight, the lazy dog because he was content to sleep and be and loved being warm, whether in front of a fireplace (almost "cooking" himself sometimes, and then I would call him a hot dog on a bun), or in the rays of the sun.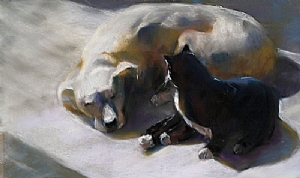 Morzie saw me through the hairy years of raising teenagers, moving to a new home, and the loneliness of time at the easel. With him, I was reminded of the beautiful lesson that dogs give us which is to live in the present, never carry baggage from the past, love people unconditionally, and always make play a priority.

As we were visiting family over the Christmas holiday, Amber, my dear dog lover and sitter, was taking care of Morzie. She knew him and loved him as her own, and so she knew that playing with the ball was his favorite thing. On Christmas Eve, playing with him at the park, Morzie wagged his tail, and, without warning collapsed. Amber, thinking he was having a seizure, rushed him to the vet. Before she could get there, he took his last breaths and died in her arms.

The vet believes it was heart failure. I wish it had been me able to hold him, but I am grateful it was Amber and that he wasn't alone.

My grief over the last few days has been profound. As the raw ache in my heart begins to ease, I am grateful that my Morzie died doing what he loved most. And, as he was put up for adoption among difficult circumstances six years ago, and consequently never liked loud voices, trauma or tears, that he was able to enjoy love, fun, and play just before his last moments is allowing me to let him go.

I love you my sweet silly dog and I miss you more than words can express.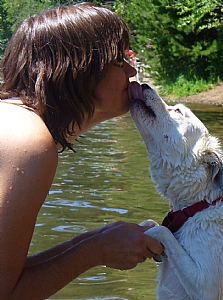 Comment on or Share this Article →