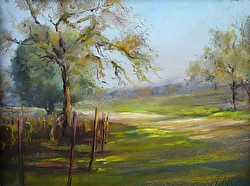 "Improvement makes straight roads, but the crooked roads without improvement are the roads of genius", Poet and Artist, William Blake (1757-1827)

I read this quote in an article entitled "Lessons from Leonardo, What can the legends of art history reveal to us about painting today?" by artist Margot Schulzke in the most recent issue (August 2010) of The Pastel Journal. Margot writes about Leonardo DaVinici's high tolerance for uncertainty and ambiguity. Her research was based on the book by Michael J. Gelb, "How to Think Like Leonardo Davinci" (Delacorte Press, 1998). She likened the above quote by William Blake to the mindset and working methods of Leonardo where he was willing to venture into territory that was untried and unknown.

I'm sure that a genius-level mentality--seeing possibilities along the crooked path--made uncertainty and ambiguity more tolerable for a mind like Leonardo's, but I think there is also a reverse cause and effect reality here too, whereby "genius"--and I use the term loosely--is fostered by plunging onto the crooked path, out of the comfort zone, cultivating the development of creative possibility.

A visitor to an art fair or gallery may conclude that the artists there have it all figured out and are resting on rarefied laurels of artistic success. Certainly, that was my perception many years ago when I was a novice, just entering the professional realm. The truth is that for both artists just beginning and those who are veterans, the path in and through the festival season and beyond is fraught with uncertainty. Will the art pieces, created over the last year, find their way into a collector's home, or instead, perhaps into the back of the artist's closet? As an artist's vision naturally evolves and continually ventures into the realm of the unknown, onto the crooked path of new artistic discovery and creation, the questions never change. Will the new art work, work? Will it work, personally? Emotionally? Technically? Commercially? Navigating the crooked path is both anxiety-provoking and exhilarating. If it activates dormant brain synapses and fosters new clear straight-line vision, the artist feels immensely gratified. And to the extent that the artwork, undertaken by the artist with joyful risk, finds peaceful repose after a circuitous journey and into the home of a buyer, well, this is bliss indeed!
Comment on or Share this Article →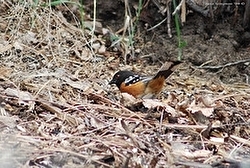 If you like to walk on paths adjacent to trees and brush, you may hear what sounds like a large animal rustling the leaves. This has happened to me time and again and I am always amazed at the small orange bird with the black head that appears, scooting backward and making a racket fit for a coyote. This is the way the towhee looks for food, lunging forward and then quickly hopping backward, scratching at the ground with both feet as they go.

This behavior is not unlike that of an artist scratching for ideas. In her book, The Creative Habit, renowned choreographer Twyla Tharp explains this creative process. When she is asked where she gets ideas for her dances, she suggests that ideas really are everywhere, and that perhaps the more meaningful question is how she gets her ideas. She implies that all artists have big ideas, which are tied to goals or dreams. But, she goes on to explain, that big ideas are built and shaped by strings of little ideas--that without little ideas, there are no big ideas. This is where scratching comes in. She explains that "scratching is not about control and repose. It's about unleashing furious mindless energy and watching it bounce off everything in your path. The hope is that a spark will fly from all that contact and combustion--and it usually does." A robin elegantly cocks its head and silently pulls a worm from the ground. The towhee, in all that furious and wild scratching, while calling attention to predators, manages to expose and pounce on the food that it needs.

I identify with the scratching of the towhee because arriving at the little ideas can be fraught with a bit of peril and often, a lot of noise. Once, when setting up a mirror on the deck railing where I often set up still lifes to capture the natural light, I gasped at the reflections I saw and managed to jiggle the set up and the mirror toppled off the railing and fell into the leaves below. I've knocked over vases, quickly mopping up the water that threatened to leave water spots on the wood table. In walking backward to analyze a setup, I have backed up into my easel (ouch!). In another case, my cats decided that the warmth of my illumination lamp was worth crawling over the many objects to find a nice place to sleep, knocking the entire setup to the ground. (You can't imagine the deafening crash...nothing broke but the good part is that the cats are now highly suspicious of my still life setups and stay away). All of the chaos and peril is worth the delight at the discoveries that unfold.

I'll give you some examples with some paintings you my have seen before in other newsletters. In the painting "What Is, Was, and Ever Shall Be", I was analyzing some hydrangeas and thinking about how the blossoms change as they mature. I was also thinking about an oil painting that I completed years ago of Rodin's "The Kiss" and the combination of those ideas led me to think about the profundity of eternal love to stand the test of time. "What Is, Was, and Ever Shall Be" was born.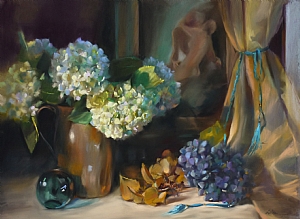 "What is, Was, And Ever Shall Be", 18 x 24, Pastel

In another case, I had been analyzing the paintings of Johannes Vermeer (1632-1675). I could not get the cool light, emanating from the left side of his paintings out of my head. That light, bathing the interior, is both soft and dramatic. And so, using the Delft blues of Vermeer's neck of woods in the beautiful clean cool light from my window I scratched out "Tribute to Vermeer".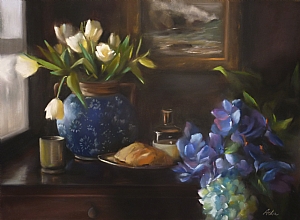 "Tribute to Vermeer", 16 x 20, Pastel

In "Water of Life", the painting I referred to in last month's newsletter, I kept thinking "draping white flower". I thought of a diagonal drape and water, water water. Imagine my delight when in the course of draping a stem of white dogwood across a shallow vessel of water, I caught a light reflection of some of the petals! Scratching is good!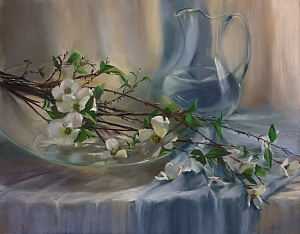 "Water of Life", 20 1/2 x 26, Pastel

Finally, my latest painting is the result of envisioning a see-through veil of cloth partly obscuring a set up of misty white and blue. The simultaneous revealing and the hiding of the veil, the clusters of white roses from my neighbors garden, dropping petals on the cloth, all gave rise to "Vale of Tears". And I loved the play on words for the title as well.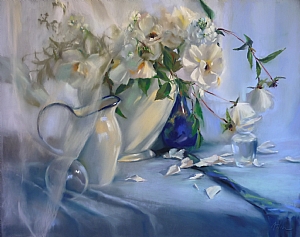 "Vale of Tears", 16 x 20, Pastel

All of my paintings came about through scratching, scratching, scratching through much emotion, back and forth, and lots of resulting noise. Scratching for the idea that flutters on the breeze or one that loudly hounds my thoughts for months finds its final orchestration through the play of light. Just as the towhee pulls its food into the light and then pounces, the idea is scratched out and exposed to the light and the plot, the narrative, unfolds.
Comment on or Share this Article →
Most people see a work of art in its finished state. The process of starting a piece of art is a mystery to many people. I find that the unfinished works and sketches in a museum are the most exciting because I can see the hand of the artist...how the ideas start and are translated into visual notes.  In a recent newspaper article referencing an exhibit of his sketches ("Michelangelo: Anatomy as Architecture", Muscarelle Museum of Art, the College of William and Mary, through April 11) the great artist Michelangelo was apparently very protective of these drawings and destroyed most of them because he wanted to foster the myth of the spontaneous nature of his genius. (His "preliminary" sketches are so fantastic, I think the genius label would apply, regardless). 

Nonetheless, a beautifully finished painting has to start somewhere, either with multitudes of sketches or the spontaneous perfect idea.

How IS a painting started?
There are a variety of ways that artists start a painting, which, for me, doesn't involved painting at all.  Composing and organizing the elements in the painting---a clusters of trees, the drape of a torso, or vases filled with flowers--with light as the grand orchestrator, results in beautiful, cohesive, simple patterns of light and dark shapes as a foundation upon which the paint strokes are applied.  

Many artists, like myself, translate these light and dark shapes into small thumbnails and sketches to use for testing different painting designs.  Here are some examples of a few of my thumbnails.  As you can see, they are rough, but they contain critical elements of design. (The left/top one is turned sideways...but the design works--and should work--no matter the orientation...).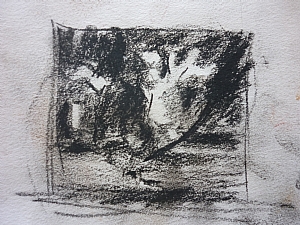 Not all artists employ this method for designing the space. We know that Michelangelo wanted us to believe that he didn't need to do this. Contemporary artist Alex Powers never does thumbnails, calling each of his paintings his sketchbook. Artist Judith Carducci does not do preliminary drawings either, preferring to keep all of the inspiration for the work contained within a single painting experience.

For me, there is a dynamic, seeking, creative experience that happens between the initial inspiration at the start, and the final finished painting.  When I arrive at the wonderful and exciting "this is it!" moment--a moment as I have said does not involve the specific the elements themselves (i.e. flowers, apple, etc), but rather the patterns and poetic shapes created by those elements in concert with the light--I know that I have "unlocked the code" for the painting that will follow, one that has a unique DNA that will never, nor can never, be replicated in quite the same way again.  It is a magical moment where light and elements become greater than the sum of their parts.

What follows are two examples of the" code having been unlocked", where the inspiration has come to fruition. The painting has been "released" from the surface!




Where can you see one of these painted toward completion?
If you would like to see one of these above two paintings brought to a greater degree of finish, you are welcome to attend "Muse: A Walk United 2010 Benefit", this Saturday, March 20, 6 PM - 9 PM at The Village at Irvine Spectrum. You will also have a chance to see several other Festival of Arts artists demonstrating their art. See below for details: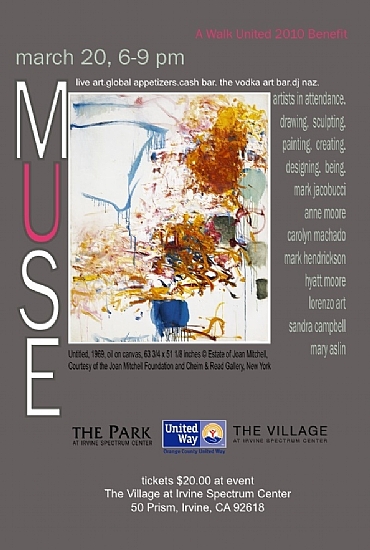 The above paintings will also eventually be posted to my website.  Check back often!

On Monday, March 22, 7- 8:30, I will be demonstrating at the Laguna Woods Art Association and will start with a brand new set-up, "unlocking the code" and will be able to bring the painting to about 50% completion. There will be a drawing for a small original as well.   Please click HERE for details.  The demonstration will be videotaped and it might be possible to get copies of this.  Please let me know if you are interested.

On Friday, April 16, 6 PM - 7:30 PM, at San Clemente Art Supply, I will be demonstrating the process of setting up a still life, how to approach "unlocking the code" and will also speak about pastels and the many wonderful painting surfaces.   For information about this and my upcoming workshop scheduled for May 15 and 16, see the San Clemente Art Supply website for information.  

Finally, I give an example of having "unlocked the code" and the finished painting, "What Is, Was, and Ever Shall Be", now hanging at Chemers Gallery.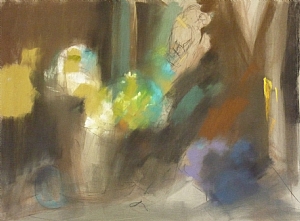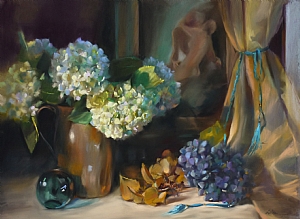 It seems that there is a common element among many visual artists of "releasing" or "manifesting" that which is contained in the surface and is what I have called "unlocking the code".  I think that Michelangelo said it best:

         "I saw the angel in the marble and carved until I set him free."

For most of us, it takes a lot of trial and error and digging to even begin to see the faint outline of an angel.  But that is half the fun! I would love to see you in person at one of the demonstrations, in a workshop, or, at the very least, on-line or by phone to enjoy some of that fun!
Comment on or Share this Article →