My joy could not be more complete at having won my first Best of Show at the United Society of Pastel Artists Members Show, currently on display at The Esther Wells Collection in Laguna Beach, California with the painting "How do these look?"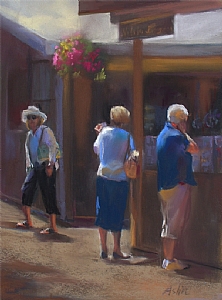 I was in complete shock when this painting was announced as Best of Show. I was told it was a sure winner. The real winner of this piece is the magnificent morning sunlight illuminating these women as they look at earrings on display at last summer's Sawdust Festival.

Another piece, "Something Borrowed, Something Blue" took 2nd place in the figure category.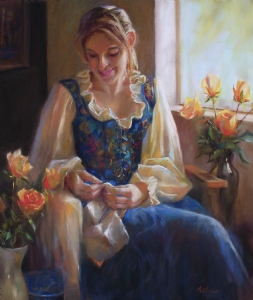 Many thanks to Southwest Art for sponsoring the Best of Show prize of an ad in their beautiful magazine and to Golden Acrylics for sponsoring the 2nd prize award. The Esther Wells Collection as the show venue, Robin Hall as the show juror, and Joann Quinlivan and Lyndelle Stonick as the show organizers deserve huge thanks!