I cannot recommend this course enough for understanding the skeletal and muscular framework of the human body. In a weekly series of eight lessons, Scott will take you through the human body step by step, identifying how skeletal landmarks and muscles manifest themselves on the surface of the body and how they change with different positions and movement. The follow-up homework valuable for cementing the knowlege. Scott is great about answering questions and providing feedback. Truly outstanding course.
Here is an example of what you will learn and the type of exercises you will do. This is called an "ecorche" which is a figure drawn, painted or sculpted without skin. (The meaning of the word "ecorche" is "flayed").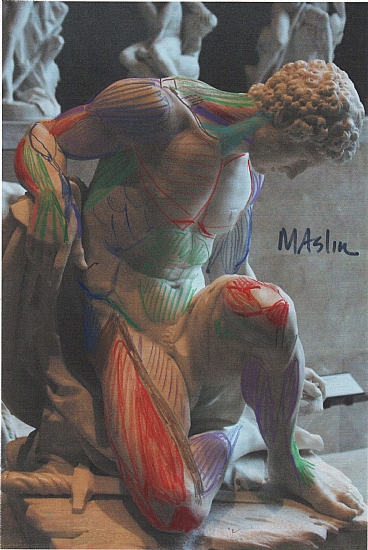 I had a question about John Singer Sargent's "Spanish Dancer" (below). I saw this painting in the Tate Britain I think and have always been bothered by it and the sense that it's not right (or I'm not right...far be it from me to correct Sargent!). In this course, when we got to the upper arms, I had a chance to revisit this painting. My husband photographed me in a similar position so that I could understand what Sargent was trying to do. I still couldn't understand what was going on. So I posed my questions to Scott.
"Spanish Dancer" by John Singer Sargent

And here is what Scott had to say:
Here's a short assessment of the spanish dancer: i agree with you - the left arm is about 1/3 of a head to long, starting in the shoulder. Remember the arm is roughly 3 head long from the point of rotation at the shoulder down to the tips of the outstretched fingers. The arm itself seems correctly proportioned it just seems to be out of the socket. Even with the clavicle projecting the arm forward, I dont think she could come up with this much distance.

The right arm is akwardly articulated (to me). It think we can all put our arm on our hip like that so the medial epicondyle shows on the outside, but it looks funny to me because of the way he has rendered the upper arm. I dont get any sense of the deltoid having to twist around the arm to the front - as it would have to do as its insertion on the humerus rotates forward. Also, I would expect she would have to move her right clavicle/scapula forward a bit to accommodate such a pose. My 2 cents. What did your photo reference shoot reveal?
Scott emphasized what we all know and that is that Sargent was excellent with the figure. But nonetheless, regarding the value of this course, need I say more?
Excellent course. Great teacher.

Comment on or Share this Article →