I first heard the term "analysis paralysis" from my friend and great artist, Johanna Spinks, in one of her interesting newsletter blogs.
From wikipedia: the term "analysis paralysis" or "paralysis of analysis" refers to over-analyzing (or over-thinking) a situation, so that a decision or action is never taken, in effect paralyzing the outcome. A decision can be treated as over-complicated, with too many detailed options, so that a choice is never made, rather than try something and change if a major problem arises. A person might be seeking the optimal or "perfect" solution upfront, and fear making any decision which could lead to erroneous results, when on the way to a better solution.
Fast forward to the Metropolitan Museum of Art in New York city. Upon a visit to the Degas room in that beautiful museum, I saw that he had appended pieces of paper onto the bottom and sides of some of his pastels to modify the composition. Degas did not seem particularly afflicted by analysis paralysis. Instead, he was afflicted by the drive to express his visual thought, which should be the overriding goal of all artists. (And, it should be noted that the appended paper did not in any way detract from the beauty and emotion of the piece.)

With so much information coming at us so easily now, it is equally easy to become frozen into inaction. I have always had a goal to produce a very large pastel painting. Undertaking something formidable like this naturally prompts a great deal of planning and analysis, revealing some obstacles:
1. The usual surface I paint on does not come in very large sizes
2. My studio space is quite small; and
3. I don't have an easel that accommodates a very large painting
4. A pastel painting that large would require framing with plexiglass which can have issues with attracting pastel dust to the back of the glass; and
5. Framing this piece would be logistical and expensive.

Analyzing all of these variables was enough to send me into a state of extreme paralysis. However, after seeing one giant painting by Maurice-Quenton de la Tour (which also had some paper attached to the edges to create a large enough painting surface) in the pastel room at the Getty Museum, I was determined to override the analysis paralysis. How? By taking action. There was no way I was going to solve this problem by over-thinking it. I also realized that by taking action I was awakening a child-like sense of joy and exploration.
So here is how I addressed each obstacle:
Obstacle 1: The usual surface I paint on does not come in large sizes:
The first step was to come up with a surface that would work. The painting surface for working in pastels is highly individual and important. (Analyzing advice by other artists is helpful to a point....however, the final choice rests with the experience that artist has actually touching the surface!). My usual working surfaces are Sennelier La Carte and PastelMat. Both are coated papers that I mount to a rigid board for framing. However, the paper does not come in large sizes. (Despite contacting the companies directly and pleading with them to sell me a larger sheet, this was not an option). The uncoated paper on rolls would not work nor would the excessively gritty pastel papers.

The only choice would be to prepare my own surface. My experiments and failures provided much needed insight!
1. Priming and painting on a canvas. Result: too bouncy and canvas weave showed through and painted areas look rough
2. Mounting paper to canvas as had been done for the Getty painting. Result: paper can wrinkle easily (although I think I could have overridden this problem by using a thicker watercolor paper)
3. Priming gatorboard directly with pastel primer. Result: too hard...pastels sound loud when touching the surface! I don't like this!

Finally, I came up with a workable surface which was Frederix ultrafine weave canvas mounted to gatorboard and then triple-primed with Art Spectrum pastel primer. The canvas yielded just enough surface softness and the primer provided a fine grittiness. And I had to complete a painting on this surface to try it out before embarking on the very large piece and it worked! It wasn't as perfect a surface as my preferred surfaces but definitely workable.
Obstacle 1: Solved!

Obstacles 2 and 3: My studio space is quite small and I don't have an easel that accommodates a very large painting.
I also don't have a large enough wall to attach the surface to. All I can say to this is that "Necessity is the mother of invention"! My standard Best easel and some clamps and the painting surface attached to a same-size canvas (rejected as a surface but great for providing rigidity!) solved the problem. The photos tell the story!

This 6 foot high painting rested nicely on the bottom of my easel. (Painting is underway!)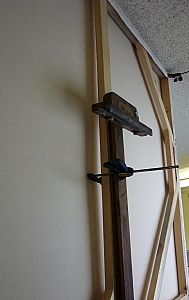 The painting was clamped to this canvas, which in turn, was clamped to my easel. Very sturdy!
Obstacles 2 and 3: Solved!


Obstacle 4: A pastel painting that large would require framing with plexiglass which can have issues with attracting pastel dust to the back of the glass.

When giving a demonstration to a local pastel group, I indicated that I was working on a 72x48 pastel. One of the attendees asked how I would frame the piece and I said that it would be framed using plexiglass (regular glass does not come that size and would be so heavy as to be unliftable). She asked, utterly horrified, how I would deal with the dust being attracted to the back of the plexiglass. If there was any issue that could have stopped this endeavor dead in it's tracks it was this one. However, again, I called to mind the La Tour pastel, completed with materials that are substandard compared to the ones we use now and framed beautifully at the Getty.
I had two choices: I could either use plexiglass with spacers or frame the painting directly up against the glass.
Here is what Tru-Vue has to say about their Optium Museum Acrylic (plexiglass): This product's anti-static protection actually exceeds glass and dissipates 2000 times more static than regular acrylic. It is ideal for oversized framing applications and static sensitive pieces, such as pastels and charcoals.
Problem solved!

The other way to avoid the static problem is to frame pieces directly up against the glass itself. This is considered an absolute "no!" in the framing world. (There are some outstanding painters, however, who use this old French method for framing with great results and swear by it). I had to find out for myself by doing. No more analysis paralysis! With an old painting and a piece of standard framing plexiglass, I clamped the painting tightly and directly against the glass and subjected the piece to many days in the sun, a hot shower twice (complete with lots of condensation), an afternoon by the fire, and then a visit to the refrigerator: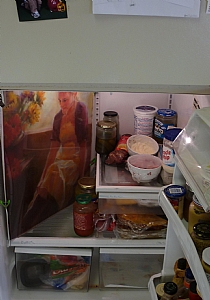 Framed pastel against plexiglass undergoing refrigerator test!

I can honestly and unequivocally say that, other than where the painting was dropped on the shower floor and some water seeped up under the glass, the painting was entirely and beautifully preserved, despite being subjected to some extreme and unlikely conditions for a painting. In addition to passing the extreme framing test, it was a true testament to the longevity and beauty of pastel that there was no change in quality of the painting surface at all.
Obstacle 4: Solved in two ways!

Obstacle 5: Framing this piece would be logistical and expensive.
There is no solving this problem easily. Completing it early would buy me time for managing the logistics and the expense.
Obstacle 5: Managed.
Dealing with "Analysis Paralysis" is common and has been addressed in a multitude of ways. Remember Nike's slogan "Just Do It"? Of course there is room for legitimate and lengthly analysis. For example, archival issues are extremely important. I wouldn't knock myself out of the analysis paralysis mode by trying to paint an epic work on a brown paper grocery sack! But doing a preliminary sketch on one, paired with some thoughtful analysis, might keep the entire inspiration moving forward a bit more energetically and quickly than analysis alone, which might stop progress altogether.
And....seeing one of your paintings in the refrigerator can certainly give you a different perspective on it!
Comment on or Share this Article →