Author: Mary Aslin
I have just published a portfolio book of many of the paintings I completed over the past year, the title a reflection of the results of our labors when the work of hands is paired with the inspiration of heart. Included are stories of how some of these paintings came to be, as well as a few works in progress and life drawing sketches. It was a year rich with joyful inspiration, and I am honored to share them with you in these books. As they are rather expensive given that they are print on demand, I've made two sizes available--11 x 13 (large landscape) and 8 x 10 (small landscape). An ipad ebooks version is available as well.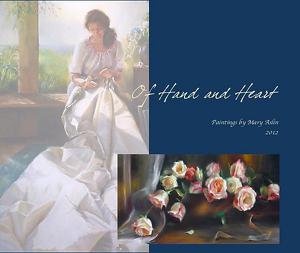 Author: Cindy Ann Coldiron
Several of my floral paintings are featured in this new book, by Cindy Ann Coldiron, published by Schiffer Books.
From Schiffer:
Observe a quiet explosion of beautiful, humorous, and contemplative colorful images of two- and three-dimensional floral-themed artwork. Stunning pieces from more than fifty artists and designers, both well known, established, and emerging, from Ireland to Hungary, Finland, and Canada, and from coast to coast in the United States. This vibrant overview of the floral world includes photography, watercolor, acrylic and oil paintings, botanical drawings, pop art, glass, wood, ceramic, collage, Ikebana design, cutting-edge fractal art, and much more. Perfect for flower and art lovers, interior designers, museums, galleries, art collectors, art educators, artists, and for individuals needing inspiration from splashes of color.
My painting "Offering" was one of nine images selected for the cover!
This book is now available! You can order the book by clicking HERE or contacting Schiffer Books directly.