« Richeson Pastel Show | Main | Now on Pinterest! »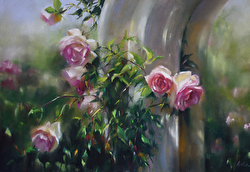 I had the honor and privilege to jury the 26th Annual Show for the Pastel Society of San Diego recently. The jurying consisted of two parts: first, qualifying the entries via digital entry and, second, viewing the paintings at the Village Gallery at Balboa Park in San Diego and selecting those pieces that would receive awards: 1st, 2nd, 3rd, and four honorable mentions. It was very painful to reject paintings from the show. It was equally painful to not award pieces that deserved one. Despite the diligent attempt to keep the process as objective as possible, there is no denying the subjective element to jurying: there were paintings that caused my heart to flutter. Certainly they withstood the scrutiny of the objective test, but had that little something "extra". This little extra something--like an experience with art itself--is, or should be, undefinable. It is felt with the heart.
Pastel Society of San Diego, 26th Annual Juried Show
Juror's Statement by Mary Aslin
I thank you for the opportunity to serve the Pastel Society of San Diego as a juror. The body of work that I was privileged to evaluate is impressive! There were two principles under which I approached this most serious task: First, honor each artist by giving each painting a careful, thoughtful and methodical evaluation; second, evaluate each piece as vigorously as I evaluate my own work. The natural outgrowth of following these principles was that I was able to uphold the mandate by your president to present a show in keeping with the standards of your group in which you "strive for excellence".
Here is the process I used for jurying:
Commit paintings to visual memory
Photograph the photo entries with my digital camera to facilitate side-by-side comparison with the other digital entries.
Upload all images to iPhoto on my iMac.
Look at all entries several times to become familiar with them. Then put computer in "slide show" mode, and let the slide show run for an hour.
Set aside for a day to incubate and let sift.
Begin the ANALYTICAL evaluation for design and composition:
Make a digital copy of all entries and convert the copies to gray scale.
Print out a high quality contact sheet showing "thumbnails" of all images.
Give a check mark to all images that exhibit principles of good design and thoughtful composition.
Invert gray scale images and print out again.
Check design and composition again and give check mark again to those that show good design and composition.
Circle those that received two check marks.
Make APPLICATION evaluation: drawing, technique and technical execution, craftsmanship.
Evaluate each piece individually in color on the computer screen.
Assign a rating from 1-10 for application.
Complete AESTHETIC evaluation looking for emotion, mood, feeling, spark:
Print out contact sheet of all color images.
Make anecdotal notes about each piece and what strikes me.
Look again on computer screen and edit my notes.
Putting it all together:
Using check marks from analytical evaluation, rating from application evaluation, and my notes from aesthetic evaluation, rate each piece, giving from zero to 5 stars.
Sort by rank.
Look at each piece, sorted low to high.
Let it sit for a day.
Look at fresh and re-evaluate.
Every single painting entered into the show received strong marks in at least one category. Those that were accepted were strong in at least two of the three categories. Seeing the work in person, after getting to know it so well, was immensely gratifying and brought me to the final and most difficult stage of the jury process: issuing awards. Those that received awards exhibited deftness of stroke in addition to technical competence, a sense of atmosphere, and clear execution of idea, from concept to emotion.
It takes great courage to enter a juried art show and to hold your work up for evaluation. So I offer kudos to everyone who made the plunge to enter the show. If you did not make it into this show, please don't lose heart. I know each one very well and each showed considerable promise. Know that you are not a real artist until you begin to collect rejections. It forces you to reckon with your own message and goals and this is a necessary—albeit, painful—part of the growth as an artist. For those whose work was accepted, I offer my most sincere congratulations! And I thank you again for the opportunity to serve your great organization!
Topics:
Jurying an Art Show
Comments
3 Responses to Jurying an art show
Marian Fortunati
via maryaslin.com12 months ago
Mary..
What a well written and instructive post.. for those who would be jurors and for those of us who enter shows.

We all can learn from your thorough approach!!

(AND of course it is a delight to see your work!!)