« Four new still life paintings celebrating spring and the summer to come! | Main | Jurying an art show »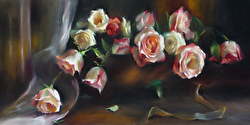 I am pleased to announce that "Quiet Glory" has won second place in the Richeson Pastel show.
You can view the show here!
My thanks to Terry Stanley of Richeson and the juror, John Philbin Dolan, for the honor of this award.
Comments
1 Response to Richeson Pastel Show
Mary
via maryaslin.com9 months ago
Congratulations on your award - Quiet Glory is another stunning piece.

I've been watching your watch and reading your website/blog for a year now. I'm always amazed by the quality of your pastel work.

Mary, you are in a league of your own. Award well deserved!

Mary
* indicates a required field