« Bejing, China in quick color studies | Main | How do you title your clouds? »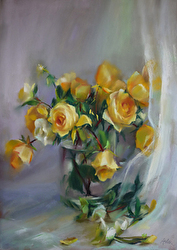 Hope Springs Eternal....
After several attempts to come up with a compelling still life, the minutes and hours ticking by, the sun moving and changing (and dimming) quickly, and the pressing need to begin painting, I put it all aside and examined the piles of accumulated still life materials. I was going nowhere quickly. In frustration, I thrust these yellow roses, intended to be a secondary element in a more complex setup into a clear vase and set it on my usual inside table. Cool north light illuminated the petals and the transparent drape made the scene strong but ethereal. The scene was beautiful, clean, simple. Time to begin....finally, and enjoy.
Hope springs eternal in the human breast;
Man never Is, but always To be blest:
The soul, uneasy and confin'd from home,
Rests and expatiates in a life to come.

-Alexander Pope,
An Essay on Man, Epistle I, 1733
Comments