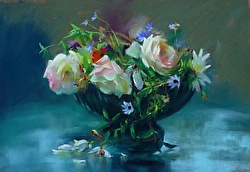 This is the painting that I completed at the 3rd Annual Summerland Cottage Art and Garden Party on May 21 in Laguna Beach. It was such a wonderful time and I'm so grateful for the watchers who encouraged and enjoyed along with me (and also helped me squint)!
(Photo credits go to Laury Detrick and Kathy Tanaka)

Lorenzo created a portrait masterpiece:
And Jonathan painted lovely Summerland Cottage and greeted visitors.