What do you have when you start with a rather ordinary cooked bird, placed on an ordinary table made pretty, and then surround with ordinary people who love each other..?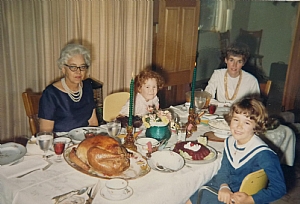 Grandma, my sister, Mom, and me...Thanksgiving, 1968

I think you have extraordinary and "unreasonable" beauty and truth.
Seth Godin, in his marketing blog, wrote recently about the the concept of "unreasonable" in the marketplace. He says "All that succeeds is the unreasonable. You can get my attention if your product is unreasonably well designed, if your preparation is unreasonably over the top, if your customer service is unreasonably attentive and generous and honest."

What Seth Godin does not say is that "unreasonable" is equated with shock or bad taste for attention's sake. Rather, he seems to say that "unreasonable" is equated with unrelenting excellence.

Mother Teresa said, "Do ordinary things with extraordinary love".

So let's morph the two ideas for artists. How about this: "Do/depict/create ordinary things with extraordinary or unreasonable passion/love?"

When artists fall in unreasonably and extraordinarily in love with their subjects, beauty is often the result. Let's look at a few of many artists who I admire for the ordinariness of their chosen subjects and for the way in which they approach their work.

I gasped in shock when I saw this beautiful painting at the Musee d'Orsay in Paris by the artist, Gustave Caillebotte. Ordinary elevated to beautiful....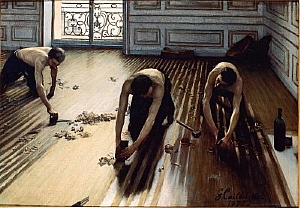 Norman Rockwell did not consider himself a real artist and was plagued with doubts.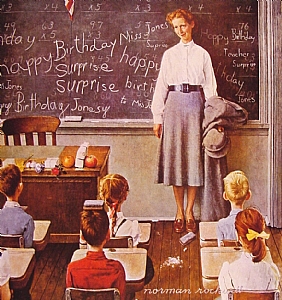 In a Saturday Evening Post article by Jeff Nilsson February 2010, Nilsson writes "we came across a critique of Rockwell's work on an art website which states that Rockwell's paintings "don't make you think—really think"....Rockwell was a superb painter, but the works were so obvious, and so good-natured, that Rockwell probably wouldn't be found in an art history textbook a hundred years from now...."

"Too obvious and so good-natured....?" Sounds like Rockwell is being criticized for painting ordinary things in a cheerful way. (This sentiment ties in with the subject of my last email newsletter/blog post about how beauty for beauty's sake is dismissed.)

One of my contemporary art heroes, Rose Frantzen, painted ordinary people in her town of Maquoketa, Iowa as part of a quest to democratize the portrait. In her book, she tells of how beautiful her ordinary subjects became to her as she painted them.



Another of my art heroes, Mary Whyte, recently completed a series of paintings of people in the South...ordinary people, doing ordinary jobs...whose way of life is disappearing.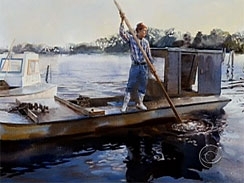 April Raber is one of my favorite landscape painters. The scenes in April's ordinary subjects are transformed into extraordinary with her unique palette and calligraphic layered brush strokes.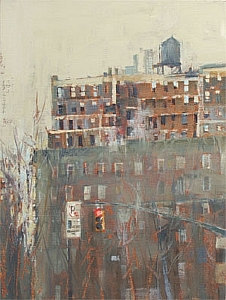 These artists elevated the ordinary into the realm of beautiful not only in WHAT they chose for their subjects but in the extraordinary and unreasonable WAY in which they did it.