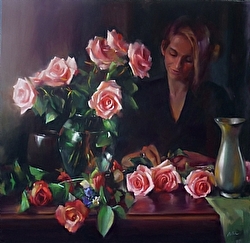 Lost in Thought.....
I have just finished this piece and am awaiting a critique from a well-known artist who saw my work and offered to give me some input. Such an honor! In the meantime, I debut the "draft".
The roses were at their peak when Renee first posed for me. She came over twice and is such a pleasure to work with. She participates with me in setting the mood and offers appropriate suggestions. We always have tea during her breaks...she brought some carrot cake the second time. What a treat!
I love everything about this piece. It fulfills a vision and idea that I have had for a long time. And I will look forward to making some changes when I get some expert input and let it settle for a time.
"Lost in Thought....", Pastel, 26 x 25