Most people see a work of art in its finished state. The process of starting a piece of art is a mystery to many people. I find that the unfinished works and sketches in a museum are the most exciting because I can see the hand of the artist...how the ideas start and are translated into visual notes.  In a recent newspaper article referencing an exhibit of his sketches ("Michelangelo: Anatomy as Architecture", Muscarelle Museum of Art, the College of William and Mary, through April 11) the great artist Michelangelo was apparently very protective of these drawings and destroyed most of them because he wanted to foster the myth of the spontaneous nature of his genius. (His "preliminary" sketches are so fantastic, I think the genius label would apply, regardless). 

Nonetheless, a beautifully finished painting has to start somewhere, either with multitudes of sketches or the spontaneous perfect idea.

How IS a painting started?
There are a variety of ways that artists start a painting, which, for me, doesn't involved painting at all.  Composing and organizing the elements in the painting---a clusters of trees, the drape of a torso, or vases filled with flowers--with light as the grand orchestrator, results in beautiful, cohesive, simple patterns of light and dark shapes as a foundation upon which the paint strokes are applied.  

Many artists, like myself, translate these light and dark shapes into small thumbnails and sketches to use for testing different painting designs.  Here are some examples of a few of my thumbnails.  As you can see, they are rough, but they contain critical elements of design. (The left/top one is turned sideways...but the design works--and should work--no matter the orientation...).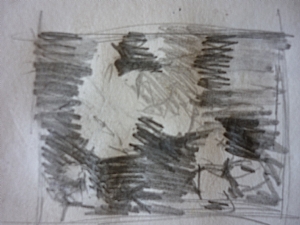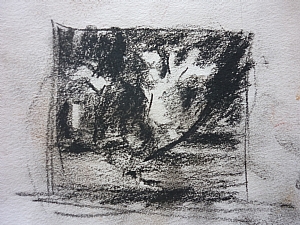 Not all artists employ this method for designing the space. We know that Michelangelo wanted us to believe that he didn't need to do this. Contemporary artist Alex Powers never does thumbnails, calling each of his paintings his sketchbook. Artist Judith Carducci does not do preliminary drawings either, preferring to keep all of the inspiration for the work contained within a single painting experience.

For me, there is a dynamic, seeking, creative experience that happens between the initial inspiration at the start, and the final finished painting.  When I arrive at the wonderful and exciting "this is it!" moment--a moment as I have said does not involve the specific the elements themselves (i.e. flowers, apple, etc), but rather the patterns and poetic shapes created by those elements in concert with the light--I know that I have "unlocked the code" for the painting that will follow, one that has a unique DNA that will never, nor can never, be replicated in quite the same way again.  It is a magical moment where light and elements become greater than the sum of their parts.

What follows are two examples of the" code having been unlocked", where the inspiration has come to fruition. The painting has been "released" from the surface!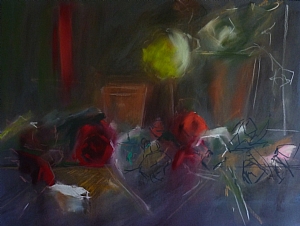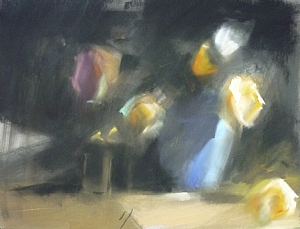 Where can you see one of these painted toward completion?
If you would like to see one of these above two paintings brought to a greater degree of finish, you are welcome to attend "Muse: A Walk United 2010 Benefit", this Saturday, March 20, 6 PM - 9 PM at The Village at Irvine Spectrum. You will also have a chance to see several other Festival of Arts artists demonstrating their art. See below for details: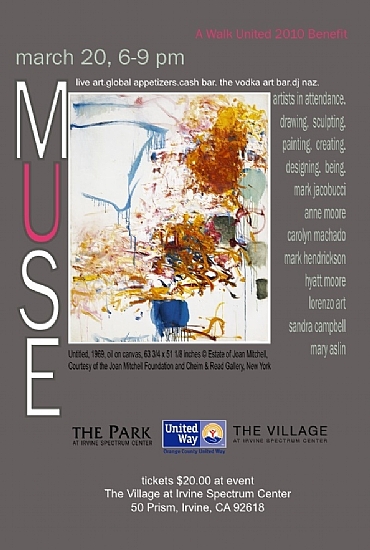 The above paintings will also eventually be posted to my website.  Check back often!

On Monday, March 22, 7- 8:30, I will be demonstrating at the Laguna Woods Art Association and will start with a brand new set-up, "unlocking the code" and will be able to bring the painting to about 50% completion. There will be a drawing for a small original as well.   Please click HERE for details.  The demonstration will be videotaped and it might be possible to get copies of this.  Please let me know if you are interested.

On Friday, April 16, 6 PM - 7:30 PM, at San Clemente Art Supply, I will be demonstrating the process of setting up a still life, how to approach "unlocking the code" and will also speak about pastels and the many wonderful painting surfaces.   For information about this and my upcoming workshop scheduled for May 15 and 16, see the San Clemente Art Supply website for information.  

Finally, I give an example of having "unlocked the code" and the finished painting, "What Is, Was, and Ever Shall Be", now hanging at Chemers Gallery.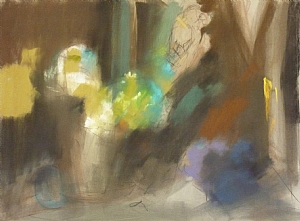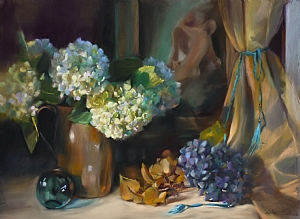 It seems that there is a common element among many visual artists of "releasing" or "manifesting" that which is contained in the surface and is what I have called "unlocking the code".  I think that Michelangelo said it best:

         "I saw the angel in the marble and carved until I set him free."

For most of us, it takes a lot of trial and error and digging to even begin to see the faint outline of an angel.  But that is half the fun! I would love to see you in person at one of the demonstrations, in a workshop, or, at the very least, on-line or by phone to enjoy some of that fun!
Topics:
Creativity
|
Unlocking the Code