« My indoor vineyard and wildflower garden | Main | Designing a Painting: Unlocking the Code and Taking it to Completion...in action! »
This Saturday, March 20, 6 PM - 9 PM, A Walk United 2010 Benefit, at The Village at Irvine Spectrum Center, 50 Prism, in Irvine!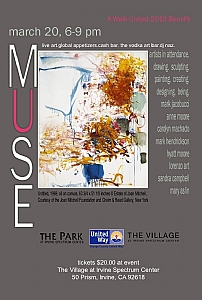 As you can see, many artists, including myself, will be demonstrating for this United Way benefit. Come join us for a good cause and some fun!  Tickets are $20 at the door.

Hope to see you there!


Comments