« High Key and Low Key: Different types of drama for painting light | Main | A Walk United 2010 Benefit »
It was thrilling to create this simulated garden "setting" in my studio, complete with draping grape vines, roses and wildflowers. I used a potted silk ficus tree from Michaels, a piece of lattice stuck in the pot, and a Trader Joes potted hydrangea at the base. I didn't do much to organize the arrangement, instead letting the beautiful clusters fall where they might.

Here is a photo of my setup: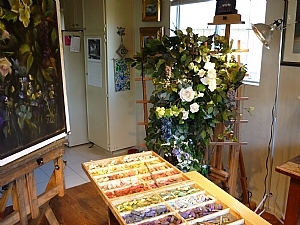 There is nothing like painting directly from life and as I have been very blessed with being a fast painter, I can now go give my thirsty wilted hydrangea some water.

Enjoy the final painting, "Concerto in the Garden", 30 x 22, Soft Pastel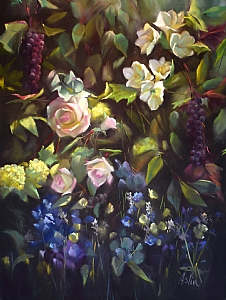 Comments
2 Responses to My indoor vineyard and wildflower garden
paulette adams
via maryaslin.com39 months ago
I LOVE IT !
Albert Stanchfield
via maryaslin.com39 months ago
WOW! A wonderful work. Eye candy for ever. I hope to see you at Chemers Gallery....All the best from the U.S.P.A...Albert.
* indicates a required field