« Sawdust 2009-Booth construction | Main | Sawdust Festival Preview Party »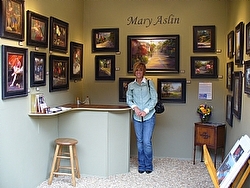 This is my daughter, Theresa, in my booth at the Sawdust Festival. We enjoyed a wonderful evening last night, seeing old friends and meeting new. The Sawdust Festival Preview is the biggest community party in town. I feel so privileged to be a part of it.
Comments
2 Responses to Sawdust Festival 2009--Ready for Preview Party
cathy june arneson
via web47 months ago
Your booth looks wonderful, Mary!

Barbara Swanson
via web47 months ago
Hi Mary,
Sat with Karen and John at Laguna Beach on Sunday and she told us that we should sign up for your email which I just did. Your booth, and your daughter, Theresa, both look marvelous. It has been a wonderful experience looking at all of your art. My, you have gotten so much better. I thought you were the best last year, and now, look what you have done. Bravo! Your work is absolutely amazing. We will look forward to seeing some of your work in person and hopefully visiting with you. Barbara Swanson
* indicates a required field