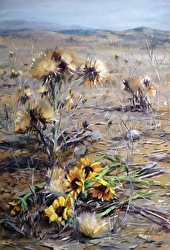 I finally "put myself out of my misery". On my bike/hikes, I would see these beautiful aged plants, with their soft blooms having faded and giving way to soft seed. I LONGED to paint them. They reminded me of sunflowers and one day, I "saw" the painting in my head and raced back up, sunflowers in hand, to do a plein air study.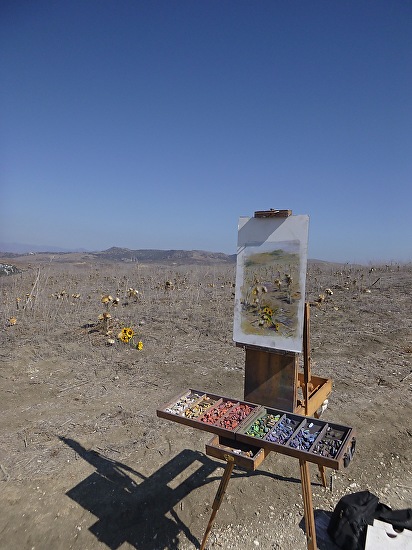 Why did I call this painting "Ancestral Memory"? I have been fortunate enough to do some traveling and when I first visited France, I had this powerful experience of "knowing" and it occurred to me that ancestral memory must be a real thing. I have visited other European countries, but have not had this experience. My ancestors are from France, England and Ireland. I have been to England and had the same feeling. Though I have never been, I am guessing that it would be similar in Ireland.
These faded thistly, sunflower-like blooms, receding in the distance, and paired with their more contemporary sunflower cousins, immediately recalled that notion of ancestral memory. Hence, the title.
It is such a relief to give flesh to this inspiration and finally, lay it to rest.