Multum in parvo typifies the art of Dirk Hagner. I saw his many brilliant examples of much in little at the Festival of Arts this summer.



This aquatint and chine' colle on origami paper is a little less than six inches square. Note the cropping of the figure and her position in the square, the angle of her head, the posture of her hands and body....so much in so little.

The other body of work, Txtd Haiku Broadsides, that he presented stopped me dead in my tracks. I was transfixed. View the letterpress print below. What comes to mind? Think old and traditional, new and modern....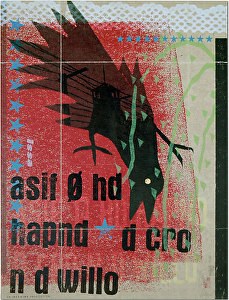 Old? The "words" above are Dirk's "translation" of haiku poetry by the Japanese poet, Issa. This, from Dirk's website:
Haiku, a 17 syllable verse form, divided into successive line phrases of 5, 7, and 5 syllables, originated in 14th century. Kobayashi Issa was born in the mountains of Japan and died in the same village, 1828. He gave himself a haiku name, Issa, which means Cup-of-Tea.
Traditional? (as distilled from Dirk's writing): Traditional is the large typography of American broadside printing where fonts were chosen by what typefaces were at hand and promise the largest words in a line...from the notion that "bigger is better".

Modern? (again distilled from Dirk's writing):..'.the "acid" bite of the print against the notion of the romance of haiku.'

New? The "texted" or in this case, "Txtd" version of the haiku poem (and I'm guessing that the original Japanese translation had 17 syllables). Finally, here is the original haiku:


As if nothing
had happened –
the crow
and the willow.
ISSA

Letterpress
2011
22 x 17 inches


So very much--poetry and visual art--the sound of the words, the shapes, colors and size of the letters, the position of the crow bending down against the strength of the red, the linear draping green of the willow and its leaves, large blue stars, small blue stars (and then consider how significant the white scalloped pattern at the top of the image is to the design)...and you will understand the beauty, the profundity, of much in little in Dirk Hagner's art.

Comment on or Share this Article →