It has been a monumental and enlightening challenge and discovery to paint under many different lighting conditions. Each type of light informs my inspiration by setting a distinct mood and telling a different story.
This was painted from life under a color rich halogen, which tends toward the warmer side.
"Homespun", 15 x 30, pastel
This next one was painted under a cool daylight bulb in my studio: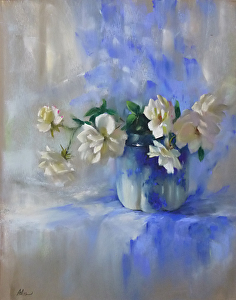 "Flowing Blue", 19 x 15, pastel
This last one was painted under a sunny outdoor sky around midday: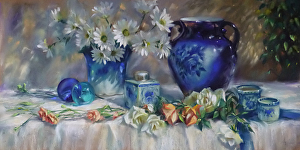 "Aspiration", 15 x 30, pastel
The difference between the paintings doesn't seem hugely significant....but it feels and looks different when painting them.
Painting is about seeing. Expanding and exercising my visual perception is a huge part of growing for me, as an artist.