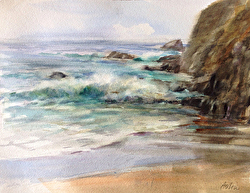 I spent many years painting in watercolor. I remember my uncle, artist John Huish, toting his gear down the bank to paint the Rogue River in Grants Pass, long before "plein air" was fashionable.
After a walk near the ocean today in Laguna Beach, on a blustery and lightly rainy morning, I was compelled to return with my own gear and paint. Watercolor lends itself to painting to water and moist skies. After being there awhile, the sun came out and the stormy day was no more.
How to describe the utter bliss of sitting there and painting this, my old watercolor brushes and palette like old friends almost seeming to say, "Where have you been, My Friend?"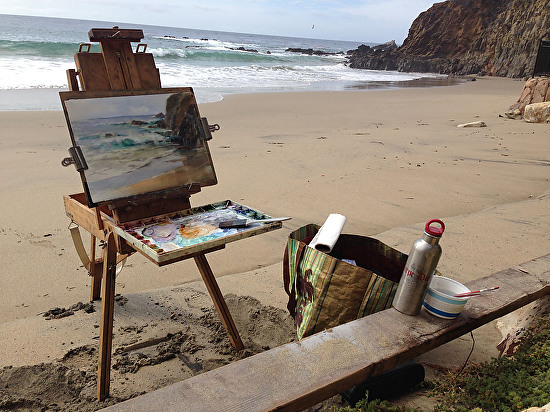 There was a board there already, spanning two rocks where someone (maybe from one of the lovely houses on the cliff overhead?) had made a little bench. It was perfect! And my bottle for my paint water says, "Carpe Diem", "Sieze the Day".
And that's what I did! In tribute to my Uncle John...a true artist....